Fig. 1
Direct local tumor extension from adjacent sites (the fallopian tube, uterus, urinary bladder, colon) to the ovaries.
Green arrows
indicate infiltrated visceral lymph nodes surrounding the primary tumor
Spread from distant sites occurs mainly via blood and lymph vessels and/or through transcoelomic dissemination with surface implantation (Fig.
2
). The fallopian tube presents yet another route for possible metastatic spread from a carcinoma of the uterine corpus or cervix or the fallopian tube itself onto the ovarian surface (Fig.
2
). Three main categories are suggested for the classification of site-specific tumors: (1) spread from extragenital sites, (2) spread from other sites in the genital tract, and (3) involvement by peritoneal tumors.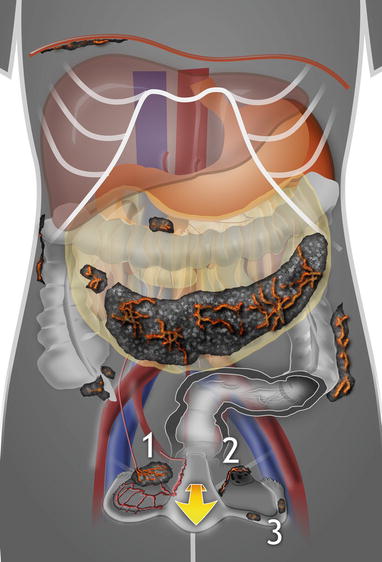 Fig. 2
Routes of tumor spread from distant extragenital sites.
1
Hematogenous and lymphatic spread,
2
generalized peritoneal spread of extraovarian primary tumor with ovarian surface implantation (visceral carcinomatosis); in this type of spread, foci of metastatic carcinoma located on the ovarian surface or superficially within the ovarian cortex are encountered,
3
spread of genital tract carcinomas (endocervical, endometrial, or tubal tumors) through the lumen of the fallopian tube onto the ovarian surface. Findings of highly perfused solid bilateral tumor, or tumor on the surface of the ovary without significant involvement of the underlying parenchyma, are suggestive of metastatic origin
A metastasis to the ovary must be strongly considered if the distribution of disease or tumor sonomorphology is atypical for primary ovarian cancer. In such cases, a minimally invasive biopsy should be performed prior to primary cytoreductive surgery for ovarian malignancy. The optimal technique to achieve an adequate histological sample in one setting is ultrasound-guided tru-cut biopsy [
2
,
3
]. As with other bioptic techniques, this procedure should be avoided in cases of severe thrombocytopenia and other serious coagulative disorders, when the tumor is in a risky location or when the tumor capsule remains intact with no sign of spread. If all requirements can be met and the histological sample is obtained, it should be then subjected to thorough examination by an experienced pathologist using additional sections, special stains, and immunohistochemistry with the goal to pinpoint the origin of the primary tumor. Needless to say, this is of importance not only regarding the possible difference in treatment but also regarding the location of the primary tumor that in such cases is often not yet known. If the ovarian tumor is confirmed as metastatic and its histological origin ascertained, then the subsequent search for an extraovarian primary tumor could be sufficiently targeted, thus avoiding unnecessary laparotomies and allowing for timely initiation of an appropriate treatment. In some cases, the primary intra-abdominal tumor is discovered on ultrasound together with the metastatic ovarian tumor, or ovarian tumor suspect of metastatic nature is found during a patient follow-up after treatment for a non-ovarian tumor. In such situations, it is of benefit to compare the primary tumor histotype with an ovarian biopsy to exclude eventual concurrent primary ovarian neoplasm.
General Principles
Among the general principles that aid the sonographer in arriving at correct diagnosis of a metastatic tumor are (1) thorough clinical history aimed at the existence of concurrent or prior tumor in another organ, (2) awareness of the frequency with which the suspected primary tumor metastasizes and of its routes of spread, (3) targeted questioning about clinical symptoms attributable to primary origin of neoplasia, (4) evaluation of blood tests and tumor markers if available, (5) systematic performance of transvaginal and transabdominal ultrasound, and (6) knowledge of sonomorphologic and Doppler patterns of the most common ovarian metastatic tumors, e.g., (A) the presence of ovarian bilateral lesions, (B) the findings of multiple tumor nodules (nests) within the ovary or (C) tumor on the surface of the ovary without significant involvement of the underlying parenchyma, (D) absence of a purely unilocular or multilocular ovarian tumor pattern, and (E) high color score in solid portion of ovarian masses on Doppler. However, many exceptions exist; for example, serous and undifferentiated primary ovarian carcinomas are commonly bilateral and may present with multinodular appearance involving ovarian parenchyma and/or with ovarian surface location.
Accurate diagnosis of the nature and origin of ovarian metastatic tumors is only possible if detailed transvaginal ultrasound is combined with transabdominal scan. Such a systematically performed ultrasound examination allows the detection of primary extraovarian tumor and/or concurrent disseminated disease (i.e., liver parenchymal metastases, visceral lymph nodes surrounding the primary tumor, carcinomatosis incl. omental infiltration, and ascites) [
4
]. The gray-scale ultrasound is combined with color or power Doppler evaluation of vessel density and their architecture. The diagnosis is usually made based on two-dimensional (2D) scan. Any additional value of three-dimensional ultrasound in diagnosing this population of tumors has yet to be ascertained. A subjective semiquantitative assessment of the amount of detectable blood flow within the tumor is made by using a color score (1, no color; 2, minimal color; 3, moderate amount of color; 4, abundant color density detected in the tumor) [
5
]. Using subjective color Doppler score [
5
], these masses are usually highly vascularized and, in a study by Guerriero et al. [
6
], 50–82 % of them presented with color score 4 (abundant perfusion). The dynamic 2D color or power Doppler also enables visualization of newly formed vessels entering the tumor from surrounding structures. Testa et al. observed that cases of metastases to the ovaries are characterized by a main peripheral vessel which penetrates into the central part of the ovarian mass with a tree-shaped morphology [
7
]. In addition, in metastatic ovarian masses presenting with multinodular appearance, we typically observe ring-shaped vessels around the nodules that may highlight their presence (Fischerova D. 2012, unpublished data).
Currently, there are no known tumor markers for specific types of cancer; however, general serum tumor markers are often elevated in disseminated disease and are being used clinically for monitoring the course of disease and relapse detection. Therefore, the evaluation of one or more tumor markers may contribute to the diagnosis of metastatic ovarian tumor and the detection of its primary source. Most serum tumor markers are tumor antigens (carcinoembryonic antigen [CEA], CA 19–9, CA 72–4, CA 15–3, CA 27.29, CA-125). Elevated CEA levels are found in a variety of cancers including colonic, pancreatobiliary, gastric, lung, breast, endocervical, and ovarian [
8
,
9
]. They are, however, also often detected in noncancerous conditions that include cirrhosis, inflammatory bowel disease, chronic lung disease, and pancreatitis. Normal CEA level in an adult nonsmoker is <2.5 ng/mL and in a smoker <5.0 ng/mL. CA 19–9 (normal level <37 U/mL) is usually greatly elevated in advanced pancreatic carcinoma (in 71–93 % cases) and in about 65 % cases of bile duct cancer [
9
]. Elevated levels are also seen in 21–42 % cases of gastric cancer, 20–40 % cases of colon cancer, and in nonmalignant conditions such as chronic pancreatitis, cirrhosis, and acute cholangitis [
10
] as well as in cases of noncancerous bile duct obstruction. CA 72–4 is elevated in 40 % cases of gastrointestinal and 50 % cases of ovarian cancer [
11
]. CA 15–3 and CA 27.29 can detect advanced breast cancer and its recurrence after primary treatment [
12
,
13
]. The normal range of CA 15–3 and CA 27.29 is <31 U/mL and <40 U/mL, respectively. In squamous cell cervical cancer, the serum concentrations of squamous cell carcinoma antigen (SCC) have been found to correlate with tumor stage, tumor size, residual tumor after treatment, recurrent or progressive disease, and patient survival [
14
]. Its normal level is <2.5 ng/mL. The serum CA-125 (cutoff value 35 U/mL) is elevated in nonmucinous ovarian carcinoma but also in endometrial, pancreatobiliary, lung, breast, and colon cancer and in noncancerous conditions including endometriosis, pelvic inflammatory disease, uterine myomas, and cirrhosis [
9
,
15
]. The serum CA-125 level may be also elevated in secondary ovarian neoplasms contributing to potential confusion with primary ovarian neoplasia. Recent study by Calster et al. presented likelihood reference tables to interpret preoperative serum CA-125 results in patients with different ovarian pathologies [
16
]. In metastatic ovarian tumors, the median concentration of serum CA-125 in all population and in premenopausal and postmenopausal patients reached 99, 80, and 132 U/mL, respectively. Metastatic tumors were associated with CA-125 levels similar to stage I primary invasive tumors but with lower levels than higher stage primary invasive tumors (median: 229 U/mL for stage II, 401 U/mL for stage III, and 725 U/mL for stage IV) and higher stage borderline tumors (median: 165 U/mL for stage II and 327 U/mL for stage III–IV). Other useful tumor markers are chromogranin A (CgA) associated with neuroendocrine tumors and beta2-microglobulin (B2M) and lactate dehydrogenase (LDH) associated with lymphomas. A urine marker—bladder tumor antigen (BTA)—is frequently detected in cases of urothelial cancer. In addition, excessive production of estrogens, androgens, or progesterone does not exclude a metastatic tumor that may have a functioning stroma [
17
].
This combined diagnostic approach (knowledge of patient history and clinical symptoms, blood tests, and systematically performed ultrasound examination) enables the diagnosis of extraovarian metastatic tumors with sensitivity of 84.8 %, specificity of 92 %, positive and negative predictive value of 82.3 and 93.3 %, respectively, and accuracy of 89.9 % [
2
].
In many cases, when ultrasound examination is highly suggestive of extraovarian primary origin, a minimally invasive biopsy (optimally, an ultrasound-guided tru-cut biopsy) of ovary or other metastatic lesion (omentum, peritoneum, lymph nodes) is performed. If a transabdominal scan or other complementary imaging techniques reveal the potential site of primary tumor (stomach, pancreas, bile duct, colon, etc.), then endoscopy or endosonography permitting the biopsy of primary tumor is added. Once a diagnosis of metastatic disease is established, the patient is referred to a multidisciplinary team for appropriate staging and optimal oncological treatment.
Site-Specific Tumors
The characteristics of most common extraovarian metastatic tumors involving the ovaries are presented below.