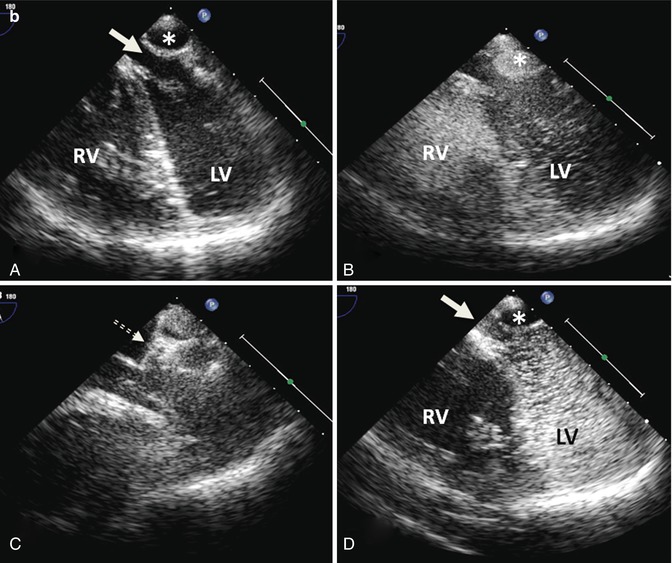 Fig. 22.1
(
a
) CTA from a patient with a Mustard procedure for transposition of the great arteries. There is a large left-sided SVC, which drains to the coronary sinus (
thick arrows
). The right-sided SVC (
thin arrow
) is baffled to the subpulmonic (morphological left) ventricle. The coronary sinus (
CS
) has been incorporated into the pulmonary venous side of the baffle (systemic atrium), giving rise to a right-to-left shunt (
b
) Series of transesophageal echocardiography images in the same patient. (
A
) Demonstrates a 4-chamber view with systemic right superior vena cava flow baffled (
white arrow
) to the left (subpulmonic) ventricle (
LV
). The pulmonary venous atrium is indicated by the
asterisk
. (
B
) Bubble contrast injection in the left arm demonstrates preferential filling of the pulmonary venous atrium and right (subaortic) ventricle (
RV
) consistent with right-to-left shunt. (
C
) Demonstrates the Amplatzer duct occluder in position in the left SVC (
dashed arrow
). (
D
) Repeat bubble contrast injection in the left arm with no further filling of the pulmonary venous circuit/RV indicating abolition of the right-to-left shunt. (
c
) Series of angiographic images outlining the angiographic findings. (
A
) Left SVC draining to the systemic venous atrium. (
B
) Balloon occlusion of the left SVC with subsequent venous drainage to the right SVC. (
C
) Final angiogram following release of the Amplatzer duct occluder
Careful attention should be given to the type of anesthesia required and access to a high-risk preanesthesia clinic is helpful. Decision regarding the type of anesthesia may reflect the complexity of the intervention or the need for and type of intraprocedural imaging (intracardiac vs transesophageal echocardiography). In simpler cases or those who are high-risk patients, general anesthesia may be avoided with the use of intracardiac echocardiography (ICE). ICE provides detailed images of all intracardiac structures including the pulmonary valve following transcatheter pulmonary valve replacement when residual catheters across the valve required for angiography may exaggerate the degree of pulmonary incompetence (Fig.
22.2
).

Fig. 22.2
Series of intracardiac echocardiogram images following transcatheter pulmonary valve replacement. (
a
) Following valve deployment (
red arrow
), there is a wire (
white arrow
) still across the valve. (
b
) Mild pulmonary valve regurgitation (
red arrow
) is seen as a consequence of the wire distorting the valve. This was also seen on angiography with the catheter across the valve. (
c
) Once the wire is removed, the ICE images clearly demonstrate no appreciable pulmonary regurgitation
Collaboration between pediatric and coronary interventionalists should be encouraged as varying experiences bring fresh perspective particularly in the setting of coronary artery work with coronary artery fistulae, when the need for rapid intervention to the coronary artery may be required (Fig.
22.3
). Honesty is required regarding level of comfort with each specific procedure, and expectation and pride should never impact upon optimal patient care.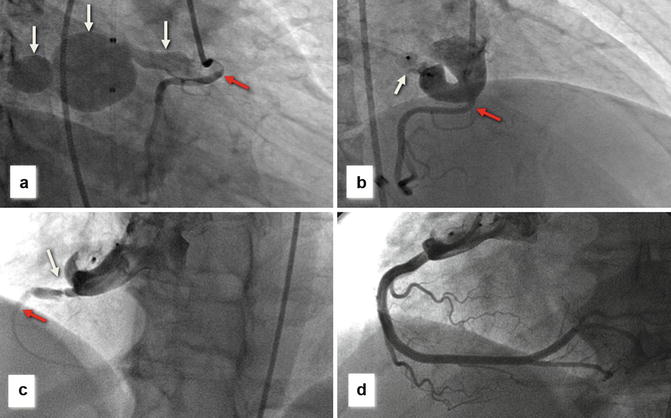 Fig. 22.3
(
a
) Right coronary angiogram demonstrating large bilobed coronary artery fistula (
white arrows
) originating from the proximal right coronary artery (
RCA
) (
red arrow
) and draining to the right atrium (
white arrow
). (
b
) Following deployment of an Amplatzer muscular occluder (
white arrow
), there is no residual distal flow to the fistula and the RCA fills well (
red arrow
). (
c
) ST elevation was noted on a routine post-procedural ECG with repeat right coronary angiography demonstrating a discrete narrowing in the RCA (probable intimal flap –
white
,
arrow
) with severely attenuated distal filling (
red arrow
). (
d
) Final RCA angiogram following implantation of three coronary stents demonstrates excellent rehabilitation of the RCA
Thus the adult congenital interventionalist is often required to be the coordinator for a number of subspecialists to focus detailed imaging review and collaborate with colleagues who provide specialist input so as to optimize outcomes from complex and varied interventions.
Defect and Vascular Occlusion
Angioplasty and Valvuloplasty
Balloon Pulmonary Valvuloplasty
Pulmonary valvuloplasty for congenital pulmonary valve stenosis has demonstrated excellent outcomes with low complication rates over the past 30 years. Indications in the adult population include a peak instantaneous Doppler gradient >60 mmHg (mean >40 mmHg); however, intervention at lower gradients may be acceptable in the presence of symptoms [
2
]. Balloon-to-annulus ratios of up to 1.4:1 have been recommended in the past; however, due to development of moderate to severe pulmonary insufficiency in younger patients, a more conservative approach has been advocated [balloon/annulus ratio of 1.2:1]. With larger annulus diameters in adults, a double-balloon technique may be required to achieve effective dilation of the valve. Long-term follow-up data is available in adults [
29
]. Significant decreases in peak pulmonary gradients were achieved in 90 adults with congenital pulmonary valvular stenosis undergoing balloon dilation, with regression in pulmonary infundibular stenosis and tricuspid regurgitation over time, following decompression of the right ventricle. Thirty percent of the cohort developed mild pulmonary regurgitation; however, this was nonprogressive in all but two cases which is less than the majority of reported cases following surgical valvotomy. Balloon dilation has also been employed in younger patients for both subvalvular and supravalvular stenoses; however, responses to treatment in this setting have been less encouraging.
Balloon Aortic Valvuloplasty
Congenital valvular aortic stenosis accounts for approximately 5 % of congenital heart defects and may be associated with genetic defects such as Turner's syndrome. In milder cases progression of stenosis may occur through childhood with one study demonstrating 17 % of children requiring intervention at a median age of 10.5 years, following initial diagnosis at a median age of 2 years [
30
]. Indications for intervention are outlined in Table
22.1
. The standard approach in older patients has been retrograde via a transfemoral approach. However reports in adults have suggested that crossing the aortic valve in the same direction as blood flow (via a transeptal venous approach) may reduce the risk of valve leaflet perforation and leaflet avulsion during inflation, thus limiting some of the major precipitants for significant aortic valve damage during valvuloplasty [
31