, Fabio Triulzi1 and Andrea Righini2

(1)
Department of Neuroradiology, Fondazione IRCCS Cà Granda, Ospedale Maggiore Policlinico, Milan, Italy
(2)
Pediatric Radiology and Neuroradiology Department, Children's Hospital V. Buzzi, Milan, Italy
10.1

Clinical and Pathophysiological Background
10.2

Fetal and Postnatal MRI

Fetal ultrasound is the method usually used in the surveillance of TTTS syndrome before and after the fetoscopic laser coagulation treatment, but it is relatively insensitive for evaluating parenchymal disease and gyration disorders [

10

]. MRI allows greater differentiation between gray and white matter and, with the use of DWI sequence, permits to detect early brain lesion after FLC treatment [

11

,

12

]. It also helps to solve doubtful findings in fetal sonography. MRI acquisition is however challenging, because the median age in which the exam is performed is around 23 weeks [personal data], a period affected by great fetal movements; brain diameters are small and image spatial resolution limited. Despite these limits, MRI is superior to cranial ultrasound for detecting brain injury [

10

]. The major findings in TTTS are destructive lesions on ischemic–hemorrhagic basis such as periventricular leukomalacia, basal ganglia damage, germinal matrix, and intraventricular hemorrhage (Fig.

10.2

) and cerebellar injury (Fig.

10.3

), porencephaly, and hydranencephaly (Fig.

10.4

). When such insult occurs early in gestation, it can lead to malformation of cortical development such as polymicrogyria (Fig.

10.5

) or heterotopias (Fig.

10.6

). The lesion type varies therefore on the basis of the timing and mechanism of injury [

7

].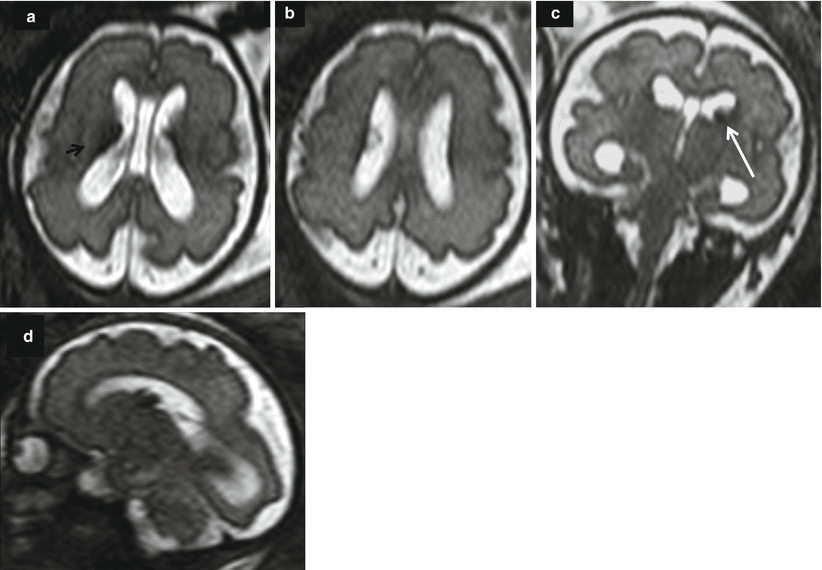 Premium Wordpress Themes by UFO Themes
WordPress theme by UFO themes