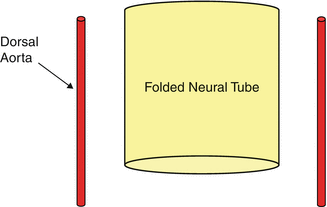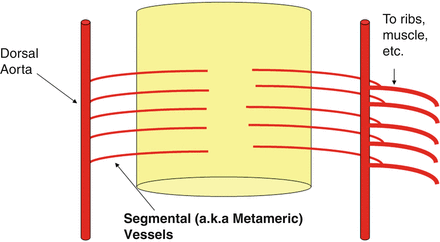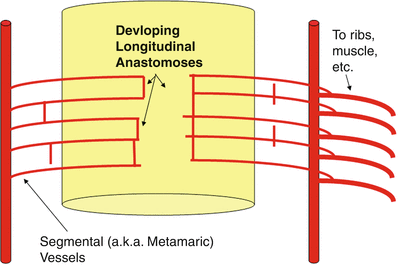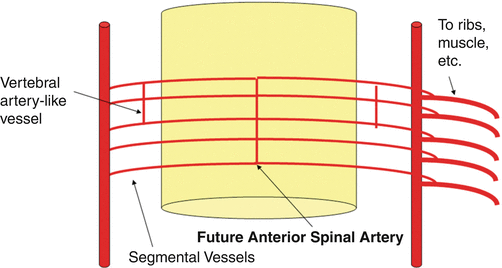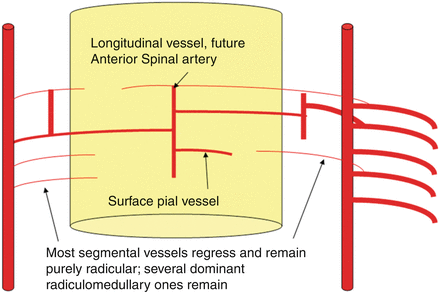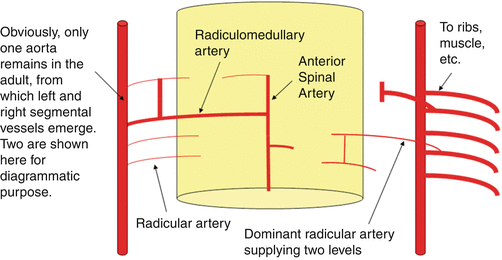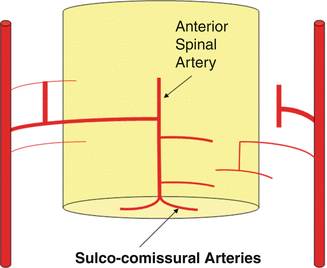 In Figs.
9
and
10
, the spinal angiographic correlation can be visualized in vivo with subtracted and unsubtracted views which demonstrate a radiculomedullary vessel giving rise to an anterior spinal artery.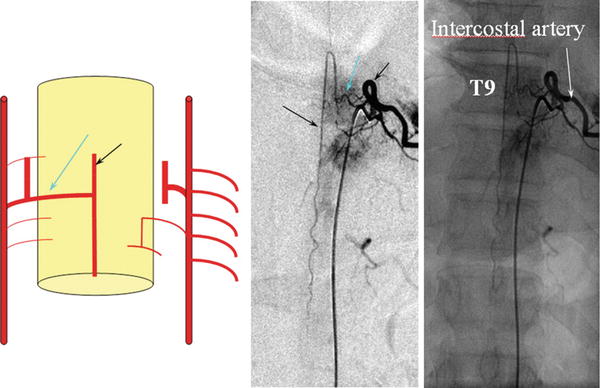 Fig. 9
Frontal view from a spinal angiogram, subtracted and unsubtracted views, demonstrating a radiculomedullary vessel (
blue arrow
) giving rise to an anterior spinal artery (
black arrow
). In this particular case, the radiculomedullary vessel arises from the T9 intercostal artery (
white arrow
)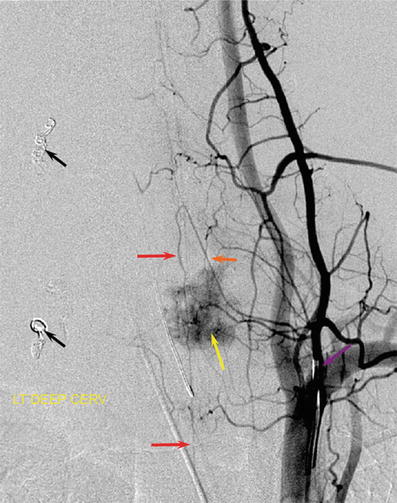 Fig. 10
Frontal view from a spinal angiogram, subtracted view. Anterior spinal artery (
red arrows
) originating from a radiculomedullary branch (
orange arrow
) arising from the costocervical trunk (
purple arrow
). This conformation attests to the metameric nature of the system, where the spinal artery can arise from longitudinal vessels other than the vertebral artery. A tumor blush (
yellow arrow
) from T1 hepatoma metastasis is present, along with several coil masses (
black arrows
) deposited after embolization of the left-sided tumor soft tissue component
The Brain: From Fishes to Humans
When thinking about the brain neuroembryology and neurophylogeny, it is useful to conceptualize its structure as a complex spinal cord, supplied by segmental vessels. Once, together with higher organism complexity, more complicated anatomical structures are added on, we will see a more sophisticated vasculature pattern that is better understood keeping in mind the very simple basic segmental arrangement of the spinal cord. We can think of the developing brain as a progressively enlarging segment of the cord, requiring larger surface and deep perforator vessels as key to understanding evolution and vascular variations. The fact that newly formed vessels are the exception, while existing pathways are usually utilized and enlarged to accommodate tissue needs, was recognized since the early twentieth century.
Vascular Neuroembryology
Introduction
Stage I (Prechoroidal Stage): Approximately 4 Weeks
There is a large vessel arising from the fourth aortic arch (Fig.
21
). Keeping in mind that this is a simplification, we will call it the common carotid. The place of origin of the internal carotid is shown, but again the external carotid is not displayed. The carotid system appears to feed the entire brain, which is in fact true of the early human embryology; the posterior circulation does not exist yet. From this carotid vessel, a series of small arteries wrap around the brain and nourish it by simple diffusion (Fig.
21
).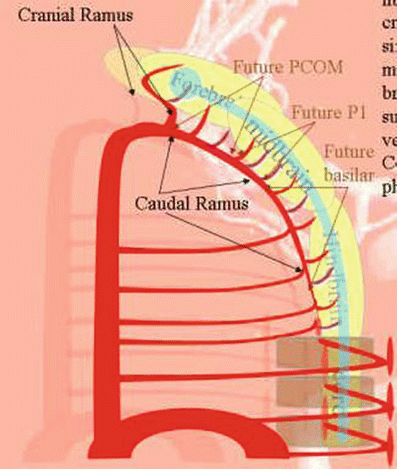 Full access? Get Clinical Tree