Fig. 1
A 31-year-old patient. Axial T1-weighted sequence (
a
), axial T2-weighted sequence (
b
), axial T1-weighted fat sat sequence (
c
), and coronal T2-weighted sequence (
d
) images show a 1.3 cm endometrioma (
white arrows
) characterized by the presence of hyper-signal in T1-weighted/T1-weighted fat sat/T2-weighted sequences
Computer-Assisted Tomography
As we previously described the computer-assisted tomography (CAT) is not considered the first-line approach for the examination and diagnosis of endometriomas, because the first line is the ultrasonography. Moreover, it is important to underline that the CT findings of this pathology are often unspecific and not diagnostic.
Nowadays the use of the CT for the detection of endometriomas is not correct and cannot be justified because of the issue related to the radiation dose and contrast material risk. For these reasons the identification of endometriomas using the CT is an occasional finding in patients that undergo CT of the pelvis.
The aspect of the endometrioma in the basal scan without the administration of contrast material is a solid (but sometimes it can be cystic or shows mixed form) mass characterized by and hyperdensity (HU values usually > 100). After the administration of contrast material, there is no contrast enhancement in the mass, but it is possible to identify a mild wall enhancement (Fig.
2
).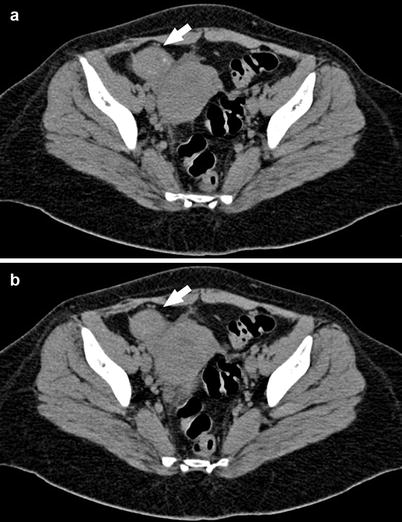 Fig. 2
A 29-year-old patient. Axial CT images (
a
,
b
) demonstrate a round mass that at the histopathological analysis was confirmed to be an endometrioma in the right adnexa
The fact that endometriomas appear on CT scanning as solid, cystic, or mixed form may cause potential problems in differential diagnostic.
Buy
et al
. [
23
] reported that the CT findings of a hyperdense focus inside an ovarian cyst are (in the basal scan) and can be considered as suggestive of endometriotic cysts. However, this is unspecific because other hemorrhagic lesions, such as hemorrhagic cysts, may also demonstrate this finding [
6
,
23
,
43
].
The appearance of endometriomas on CT may also overlap with pelvic inflammatory disease, as well as by benign or malignant ovarian tumors. For this reason CT scanning should not be relied on for the diagnosis [
3
,
4
,
21
–
23
,
43
].
Contrariwise, CT may be useful in detecting complications of endometriosis in general, such as bowel obstruction or ureteral obstruction, which may determine hydronephrosis, or complication of endometriomas such as rupture which may determine a condition of acute abdomen [
22
,
23
]. Considering the low specificity and elevated radiation dose and also the poor contrast resolution, the use of CT in the evaluation of endometriomas has been replaced by MRI [
22
–
25
].
Magnetic Resonance Imaging
MRI represents a noninvasive approach which, according to recent reports, is widely considered an excellent technique for diagnosis and evaluation of endometriosis.
Nishimura et al
. firstly reported in 1987 the usefulness of MR imaging in the diagnosis and staging of this important disease [
26
–
28
]. Thanks to its high space/contrast resolution and its large field of view, MR imaging allows an optimal pre-surgery mapping, an excellent tissue characterization, and a multiplanar evaluation of the pelvis without using ionizing radiation or iodinated contrast agents [
6
,
26
–
28
].
Besides, MR imaging is recommended in presence of extensive pelvic adhesions (which represents a limitation to the laparoscopic investigation) and permits a panoramic assessment and a complete survey of the anterior and posterior compartments of the pelvis unlike ultrasound approach [
27
,
29
]. Moreover, MR imaging presents a higher accuracy than TVUS in distinguishing benign from malignant ovarian masses, especially when the examination is completed with the use of contrast enhancement [
7
,
30
–
33
].
MR Protocol
Endometrioma: MR Findings
Diffusion-Weighted Imaging in MR
Recent technical advances in diffusion-weighted imaging (DWI) greatly enhanced the clinical value of magnetic resonance imaging (MRI) of the body. In fact DWI can provide excellent tissue contrast based on molecular diffusion [
50
–
55
]. Quantitative measurement of the apparent diffusion coefficient (ADC) may be valuable in distinguishing between malignant and benign lesions, and in the last years, it has been suggested to use the diffusion-weighted imaging with quantitative assessment of apparent diffusion coefficient (ADC) values into pelvic MR imaging protocols (Figs.
11
and
12
).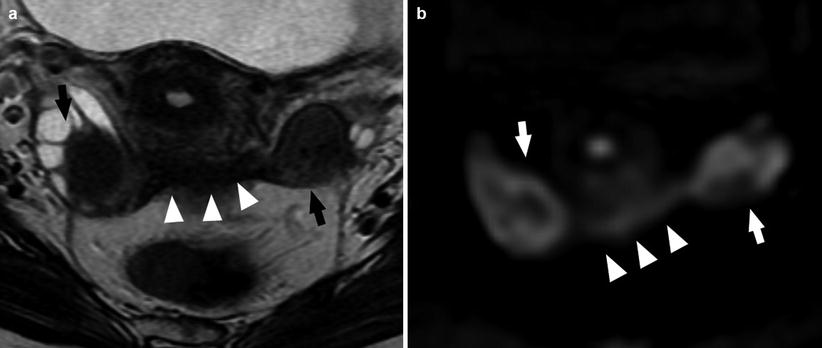 Fig. 11
A 29-year-old patient. Axial T2-weighted sequence (
a
) and axial DWI (
b
value = 1,000) (
b
). Bilateral endometrioma (
white
and
black arrows
) well demonstrated by the DWI; the presence of fibrosis involving the retrocervical region (
white arrowheads
) is also visible (Images courtesy of Carlo Nicola de Cecco MD – University of Rome la Sapienza – Polo Pontino)

Fig. 12
A 24-year-old patient. Axial T2-weighted sequence (
a
), axial DWI (
b
value = 1,000) (
b
), and axial DWI (
b
value = 1,000) with inverted window (
c
). Endometrioma in the right adnexa (
white arrows
) well demonstrated by the DWI; there is also a visible nodule of endometriosis in the para-uterine region (
white open arrows
) and the presence of fibrosis involving the sigma (
white arrowheads
) (Images courtesy of Carlo Nicola de Cecco MD – University of Rome la Sapienza – Polo Pontino)
Endometriomas usually have low ADC values in part because of the so-called "T2 blackout effects" [
72
]. On a diffusion-weighted image obtained with a low
b
value (which is a type of T2-weighted fat-suppressed image), an endometrioma exhibits low-signal intensity resembling the T2 shading. Thus, endometriomas have less signal intensity to lose on images obtained with higher
b
values than adnexal masses with higher T2 signal intensity do. Because the ADC value is based on the slope of the signal intensity loss between acquisitions at low
b
values and those at higher
b
values, endometriomas often have low ADC values.
Busard et al
. showed a significant correlation between the T2 signal intensity and the ADC value in a study evaluating both endometriomas and solid endometrial implants [
73
].
Previous publications demonstrated that restricted diffusion and low ADC values within an adnexal lesion does not have a high PPV (positive predictive value) or specificity for the diagnosis of malignancy because endometriomas demonstrate restricted diffusion but also benign hemorrhagic ovarian cysts solid endometrial implants as well as benign mature cystic teratomas also demonstrate restricted diffusion.
3 T MRI Imaging
In the last years, 3 T systems have been introduced in the clinical use [
74
,
75
] and, compared with 1.5 T, the signal-to-noise ratio at 3 T has been increased and background suppression has been improved, which allows better categorization of variable components of endometriomas. The 3 T systems guarantee high spatial and contrast resolution, providing also an accurate information about endometriosis implants, with a good pre-surgery mapping of the lesions involving both bowels and bladder surface and rectouterine ligaments. In a recently published paper in Radiology by
Hottat et al
., the sensitivity and specificity in detecting endometriomas using a 3 T system was 96 % and 80 %, respectively, and also a very high interobserver agreement was found. However, further investigations are necessary to define the role of this technology in the detection and characterization of endometrioma.
Differential Diagnosis
MR findings of endometrioma may overlap with MR findings of other adnexal masses, in particular with other lesions that appear with high-signal intensity on T1-weighted images, such as dermoid cysts, hemorrhagic masses, mucinous cyst, and neoplasms. Thus, a differential diagnosis is necessary [
6
,
44
,
49
]:





Dermoid cysts

may be differentiated from endometriomas thanks to fat-saturated T1-weighted sequences, in which the endometrioma's signal intensity does not decrease. This signal characteristic differentiates endometriomas from fatty adnexal masses, such as dermoids that show instead a chemical shift artifact and signal dropout [

10

,

44

,

49

] (Fig.

10

).






Mucinous lesions

present a definitely lesser increased signal intensity on T1-weighted images than that of fat or blood [

6

].






Hemorrhagic cysts

(most commonly a corpus luteum cyst) represent the most difficult differential diagnosis, because of the similarity in MR imaging appearance to that of endometriomas. In fact hemorrhagic cysts remain bright on fat-saturated T1-weighted images. However, what better allows in the differential diagnosis is that, unlike endometriomas, hemorrhagic cysts are usually solitary, unilocular, and thin walled. They do not exhibit shading on T2-weighted image, since they do not repeatedly bleed. Without recurrent hemorrhage and concentration of contents, viscosity of the cyst remains lower, and shading is unlikely to be present. Endometriomas that are not bright on T1-weighted images may be difficult to distinguish from other adnexal masses [

4

,

7

,

10

]. In addition, hemorrhagic cyst will resolve with time, so it is helpful a follow-up examination rather with TVUS [

4

,

45

,

64

].