Fig. 20.1
DECT: various image displays. (
a
) 70 keV monochromatic image; (
b
) water material density image; (
c
) iodine material density image with color overlay; and (
d
) effective-Z image with color overlay of regions of interest (ROI) highlighting various materials in the body. The ROI information can be plotted onto different spectral graphs as in Fig.
20.2
With the use of an advanced workstation application, ssDECT data can be post-processed to generate spectral Hounsfield units (HU) curves, scatterplots, and histograms (Fig.
20.2
). Spectral HU curves are created by plotting attenuation values (HU) for a single material over monochromatic energies spanning from 40 to 140 keV, whereas scatterplots and histograms show pixel-by-pixel information for specific materials. The potential application of these post-processed data sets, as well as those of other specific DECT displays, can vary by organ system, as outlined below.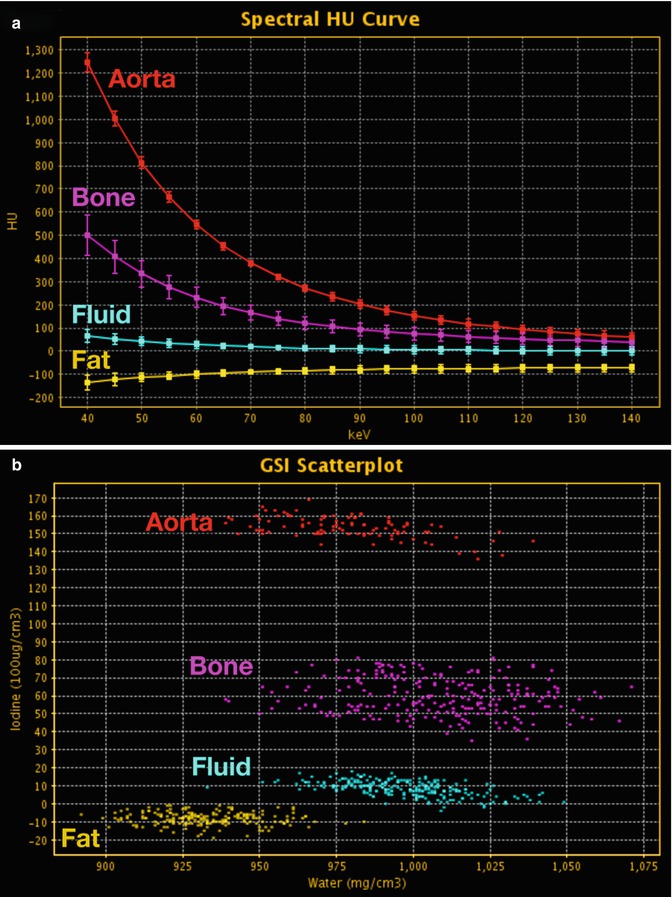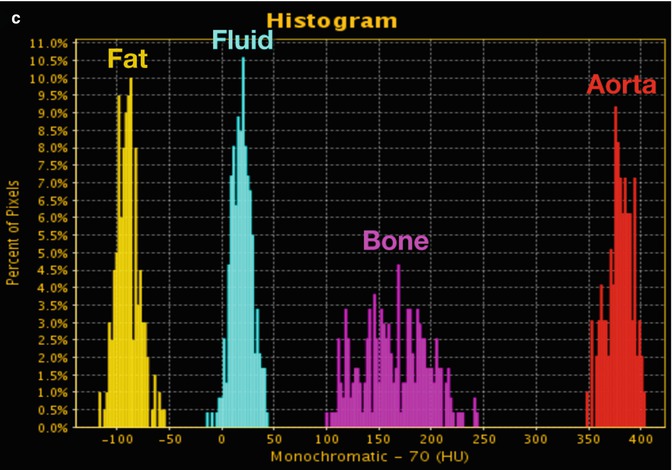 Fig. 20.2
DECT: advanced post-processing displays. (
a
) Spectral HU curves are generated by plotting the attenuation values of a material for every monochromatic energy from 40 to 140 keV. These attenuation curves can help characterize specific materials (e.g., aorta and bone have sharply upward-sloping curves at lower energies due to their specific k-edge, whereas fluid has a relatively flatter curve; and fat has a downward-sloping curve at lower energies). (
b
) DECT scatterplots are generated by plotting material components in a pixel-by-pixel display using various parameters (e.g., concentration of iodine (100 μg/mL) vs. water (mg/mL). The area encompassed by the pixels helps to classify tissue composition within the ROIs. (
c
) Histograms are generated by plotting the percentage of pixels within an ROI rather than by specific DECT parameters, which in this case are HU values as in the 70 keV monochromatic image. Greater separation along the
x
-axis indicates greater differences in composition
20.2

Chest

A solitary pulmonary nodule can be imaged to exclude malignancy by proving the presence of a characteristic benign pattern of calcification indicative of prior granulomatous disease exposure. When chest CTs are performed with iodinated intravenous (IV) contrast, a conundrum with SECT arises as to whether a hyperdense solitary pulmonary nodule is calcified or is the result of an enhancing mass. However, with DECT, calcifications have been detected on water basis pair (VNC) images 85–97 % of the time in lung nodules and lymph nodes [

26

]. In addition, the CT number (HU) on iodine basis pair images from dsDECT has been found to correlate with the degree of enhancement in a solitary pulmonary nodule [

26

]. Since malignant nodules enhance considerably more than benign nodules, a preliminary study showed that a threshold value of <20 HU on iodine basis pair images can differentiate nodules with an accuracy rate of 82.2 % [

26

–

33

]. DECT can detect calcification and measure degree of enhancement in lung nodules, masses, or lymph nodes, allowing accurate classification on a single enhanced examination, negating the need for a follow-up examination, and decreasing radiation exposure to patients, as well as giving a more streamlined answer to the patient and the referring clinician.

The imaging technique 18-fluoro-deoxyglucose positron emission tomography (

18

FDG-PET) CT has a proven track record in characterizing pulmonary nodules and in staging lung cancer before and after therapy. Since the maximum standardized uptake value (SUV

max

) may correlate with tumor aggressiveness [

34

–

41

], this imaging study can be an important component of a treatment plan. Unfortunately,

18

FDG-PET CT requires more preparation, patient time, and cooperation than DECT, as well as greater radiation exposure. Thus, DECT is being investigated as an alternative. For example, non-small-cell lung cancer (NSCLC) treatment response can be monitored on

18

FDG-PET CT by SUV

max

. However, the degree of viable primary tumor or lymph node enhancement with iodinated contrast (i.e., vascularity) can be measured with maximum iodine-related attenuation, which has been shown to correlate with SUV

max

, thus indicating that DECT has the potential to replace or become an adjunct imaging study for monitoring NSCLC [

42

]. Nonetheless, further evaluation is needed to confirm these preliminary results, as well as to investigate the role of DECT for other primary lung cancers.
20.7

Bowel

CT enterography is progressively replacing traditional small-bowel follow-through fluoroscopic examinations because of its robust image quality and performance. When optimally performed using neutral oral contrast to distend the small bowel along with rapid IV contrast bolus, CT enterography has been shown to be more sensitive than capsule endoscopy for detection of small-bowel masses [

85

,

91

–

93

]. However, a potential limitation of CTE is the detection of hypoenhancing and nonenhancing masses, which can be better visualized as a filling defect with positive intraluminal oral contrast. Disappointingly, positive luminal contrast can obscure hyperenhancing polyps and bowel mucosa. In this regard, IV contrast-enhanced DECT enterography with oral bismuth contrast may have promise for concurrent detection of hyperenhancing, hypoenhancing, and nonenhancing small-bowel polyps [

91

] (Fig.

20.8

).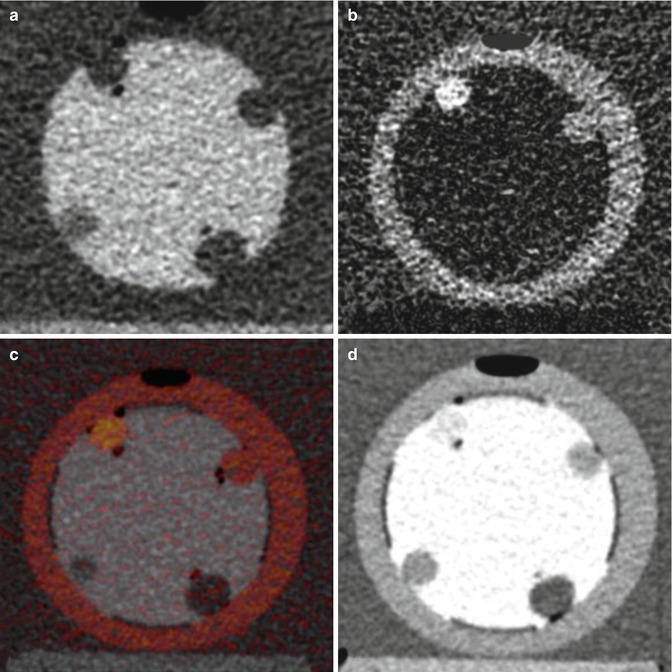 Fig. 20.8
Four different display techniques. (
a
) Bismuth-only image with iodine subtraction showing bowel lumen; (
b
) iodine-only image with bismuth subtraction showing bowel wall; (
c
) iodine-overlay image with color overlay of iodine signal superimposed on iodine image; and (
d
) mixed-kilovoltage image with a 0.5-linear blend of low-kilovoltage and high-kilovoltage images showing routine CT appearance, with both positive enteric contrast and iodine-containing bowel wall and polyps. The "polyps" are latex balloons filled with 6-mg/mL iodine (
upper left
), 3-mg/mL iodine (
upper right
), water (
bottom right
), and tissue equivalent material ball (
bottom left
) (Reprinted with permission from Qu et al. [
91
])
CT colonography is a noninvasive, effective option for colorectal cancer screening [
94
]. A standard protocol requires complete bowel cleansing and fecal/fluid tagging (oral iodinated contrast) before the examination, which is acquired with the patient in supine and prone positions. In a preliminary study with IV contrast enhancement, water (VNC) and iodine basis pair images were obtained to differentiate enhancing polyps from stool [
95
,
96
]. The results suggested that DECT colonography may be technically feasible in a single acquisition, obviating the need for prone images [
96
], with resultant decreased radiation dose. Furthermore, noncathartic or reduced-catharsis DECT colonoscopy may be possible. Following fecal tagging, electronic "spectral cleansing" is performed by post-processing software to remove iodine-containing material, including tagged residual fecal material [
97
].
20.8

Tumor Treatment Response

In this new era of targeted therapeutic agents, accurate response assessment remains challenging with conventional imaging and current response evaluation criteria in solid tumors (RECIST) (Fig.

20.9

) [

98
Full access? Get Clinical Tree