Fig. 1
Relationship between examples of pure malignant germ cell tumors and their secreted marker substances (Data derived from Rice [
48
] and John Hopkins Pathology, 2001)
Dysgerminoma
Immature Teratomas
Immature teratomas contain tissue elements that resemble those of the embryo. They vary considerably in size and are usually round or oval with mixed content composed of hair and fatty material surrounded by a firm capsule [
14
]. Immature teratoma elements may occur in combination with other germ cell tumors as mixed germ cell tumors [
1
].
Epidemiology
Microscopy
Immature teratoma is composed of immature tissue differentiating toward cartilage, glands, bone, muscle, nerve, and others [
14
].
In contrast to the other forms of malignant ovarian germ cell tumor, immature ovarian teratoma usually shows relatively minor cytogenetic abnormalities that increase as the grade of the immaturity worsens [
21
].
The most common monodermal teratoma (composed predominantly or solely of one tissue type) is the struma ovarii, a rare ovarian tumor composed entirely or predominantly of thyroid tissues. It constitutes approximatively 3 % of all ovarian teratomas, 2 % of all germ cell tumors, and 0.5 % of all ovarian tumors. The malignant transformations occur only in about 5 % of all struma ovarii [
21
,
23
]. Histologically it can be described as mature thyroid tissue consisting of colloid-containing follicles of different size lined by a single layer of follicular cells [
23
].
Macroscopy
Immature teratomas are typically large (14–25 cm) and have a smooth external surface. On section, they are solid or predominantly solid, cystic areas can be present as well and usually filled with serous or mucinous fluid or sometimes with fatty sebaceous material. The solid areas within immature teratomas, which are usually composed predominantly of neural tissue, are typically soft, fleshy, and gray to pink and may be focally hemorrhagic or necrotic. Mature components such as hair, fatty tissue, cartilage, bone, and calcification are usually present [
22
].
Clinical Symptoms
Immature teratoma is often discovered incidentally during a physical or ultrasound examination of the female pelvis.
Given the large size, patients with immature teratoma can present with the onset of acute pelvic pain due to either rupture or torsion of the ovarian mass. Some patients complain of abdominal distension, pain, urinary or bowel symptoms, and infertility. Rarely patients can experience sexual pseudoprecocity due to the production of steroid hormones [
1
].
Prognosis
The most important prognostic feature is the grade of the lesions. Patients with stage IA grade 1 tumors have an excellent prognosis, and adjuvant therapy is not required. In case of stage IA grade 2 or 3, adjuvant chemotherapy is commonly recommended. Combination platinum-based chemotherapy is the treatment of choice (BEP regimen) [
1
,
15
].
For patients with all stages, pure immature teratomas' 5-year survival rate is 70–80 %, and it is 90–95 % for patients with surgical stage I lesions. The presence of residual disease at the end of primary surgery has been reported to significantly lower 5-year survival rate from 94 to 50 % [
1
].
Ultrasound Characteristics
The ultrasound appearance of immature teratoma is nonspecific, and it is very difficult to differentiate them from the benign counterparts.
Three ultrasound patterns most commonly occur in mature teratoma. The most common setting is a cystic lesion with a densely echogenic tubercle (Rokitansky nodule) projecting into the cyst lumen; the second one is a diffusely or partially echogenic mass with the echogenic area usually demonstrating sound attenuation owing to sebaceous material and hair within the cyst cavity; and the third one consists of multiple thin, echogenic bands due to the presence of hair in the cyst cavity [
22
].
There are different echogenicities depending on the characteristics of the material filling the dermoid cyst: pure sebum may be hypoechoic or anechoic; fluid–fluid levels result from sebum floating above aqueous fluid, which appears more echogenic than the sebum layer; dermoid plug is echogenic, with shadowing due to adipose tissue or calcifications within the plug or to hair arising from it. Diffuse echogenicity in these tumors is caused by hair mixed with the cyst fluid [
22
].
The immature teratomas typically are large masses with heterogeneous, partially solid lesions. Scattered calcifications are usually presents. Ultrasonographically, these features can appear as heterogeneous internal signal intensity with punctate high signal intensity or echogenic mass with sound attenuation or heterogeneous mass containing echogenic reflectors representing hair [
22
] (Fig.
4
).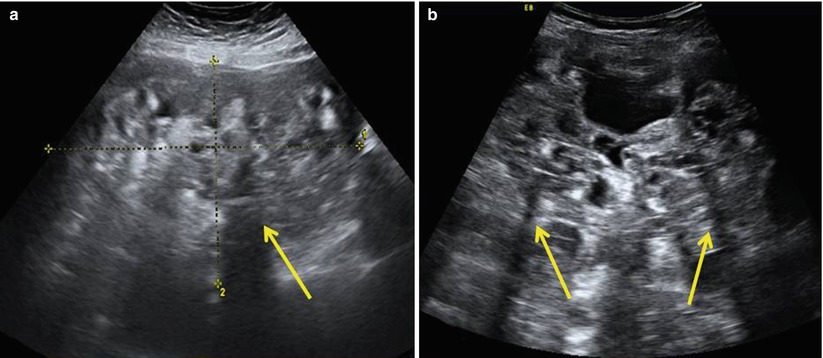 Fig. 4
Large prominent solid pure ovarian immature teratomas in a 50-year-old patient with a 24 cm mass (
a
) and in a 12-year-old girl with a 28 cm mass (
b
) with a heterogeneous appearance and cystic elements. The internal echogenicity is rather irregular; echogenic sebaceous material and scattered calcifications determining cone shadows (
arrows
) are present; contours are undefined
Endodermal Sinus Tumor
Rare Germ Cell Tumors of the Ovary
Embryonal Carcinoma
Choriocarcinoma of the Ovary
On gross examination, the pure choriocarcinoma is typically solid, hemorrhagic, and friable.
Premium Wordpress Themes by UFO Themes
WordPress theme by UFO themes