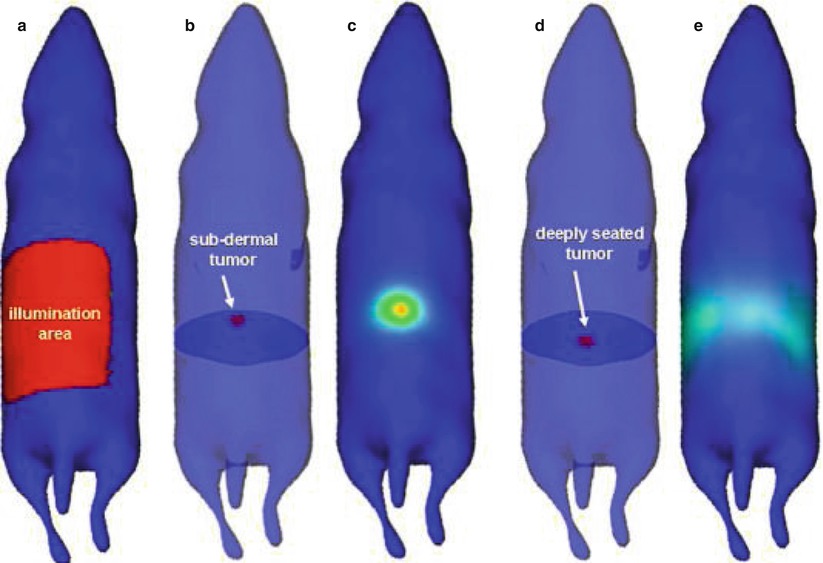 Fig. 2
Non-linear relation between tumour depth and optical signal (Figure from Leblond et al. [
114
])
Fluorescence Imaging
Fluorescence (i.e. optical) imaging (FLI) can be either direct or indirect. Direct FLI is performed by integrating a transporter gene, often that of green fluorescent protein (GFP), into the organism. The fluorescent protein that is produced upon transcription of the gene can subsequently be imaged.
Indirect FLI does not require genetic alterations, as imaging is performed using an externally administered fluorescent substance, such as a fluorescently labelled antibody or small molecule or simply by injecting solely the fluorescent compound. Upon binding to its target receptor, the fluorescently labelled agent will yield a signal that is specific for cells that carry the target. Nontargeted fluorescent dye such as indocyanine green (ICG) can be used in perfusion studies and to detect the sentinel lymph node in cancer surgery [
1
–
4
]. Upon excitation of the fluorescent dye with light of the appropriate wavelength, the electrons shortly reach a higher energy state by absorbance of one or more photons. This phase ends with the emission of a photon with lower energy and thus a slightly higher wavelength and return of the electron into its stable state (Fig.
3
). The emitted light can be captured with a fluorescence camera system.

As mentioned above, light in the NIR range is most suitable for in vivo imaging. There are multiple examples of in vitro FLI using an agent that emits in the visible spectrum, mostly based on fluorescein, but results in vivo are far more sensitive when using a NIR fluorescent agent. This light is not visible without sensitive charge-coupled device (CCD) cameras, most of which now combine colour imaging and FLI. Similarly to BLI, both images can be superimposed to help accurately locate the fluorescent signal in the organism (Fig.
4
). FLI shares the disadvantages of BLI of having limited tissue penetration and the inability to draw conclusions about tumour size and depth.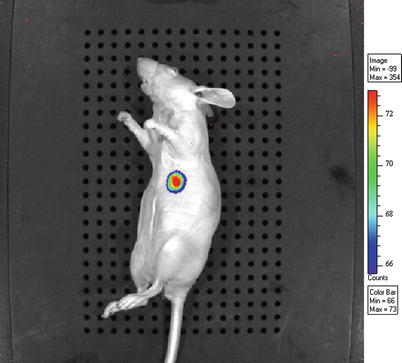 Fig. 4
BLI signal superimposed on color image (depicted in greyscale)
Fluorescence Epi-illumination and Transillumination
Most imaging studies are performed using epi-illumination, meaning that the light source for excitation is on the same side of the subject as the CCD camera that translates the emitted signal to an image. Conversely, transillumination refers to a light source opposite from the camera, thus passing the light through the image (Fig.
5
) [
5
]. A shortcoming of the latter is the limited penetration of photons through tissue; adipose tissue in particular, thus making it unsuitable for clinical application. Epi-illumination is often used in preclinical studies because of its simplicity and because scattering and penetration are of limited concern in small animals. In clinical studies in which the subject is located either subcutaneously or in direct view of the CCD camera, for instance, during surgery, epi-illumination is the technique of choice.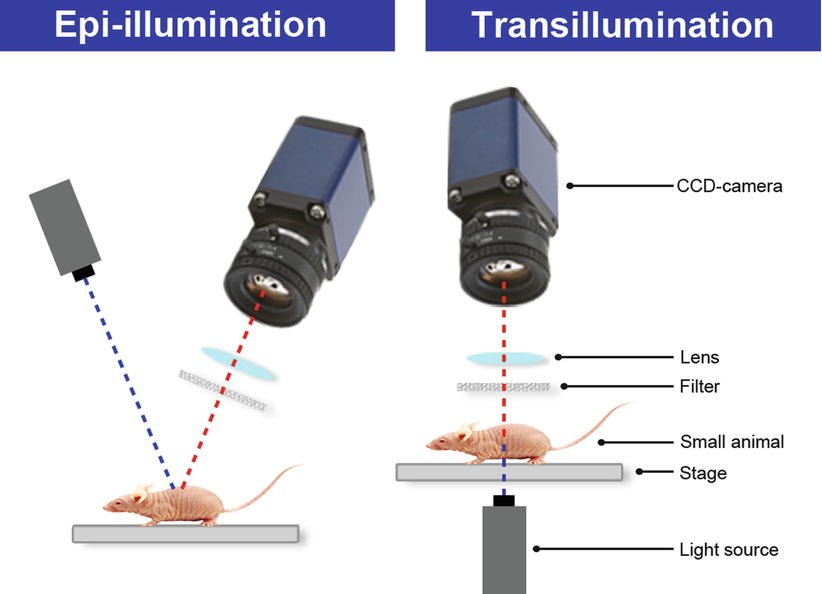 Fig. 5
Epi- and transillumination
Fluorescence Molecular Tomography
In fluorescence molecular tomography (FMT), the emitted light is measured in different directions. A mathematical calculation transfers this data into a 3D image of the fluorescent or bioluminescent signal within the small animal. Advantages over planar imaging are the ability to calculate volume and depth of the light-emitting tissue of interest. FMT is not used in clinical imaging as light propagation through tissue is limited.
Photoacoustic Imaging
A relatively new technique is photoacoustic imaging, in which the fluorescent agent is excitated by light similar to FLI, whereupon thermal expansion causes the emission of ultrasound waves (Fig.
6
) [
6
]. Similar to light propagation, ultrasound waves also suffer from scattering, albeit to a lesser extent. Due to this greater stability of the signal, photoacoustic imaging allows for deeper imaging than FLI, with a current penetration depth of more than 1 cm [
7
].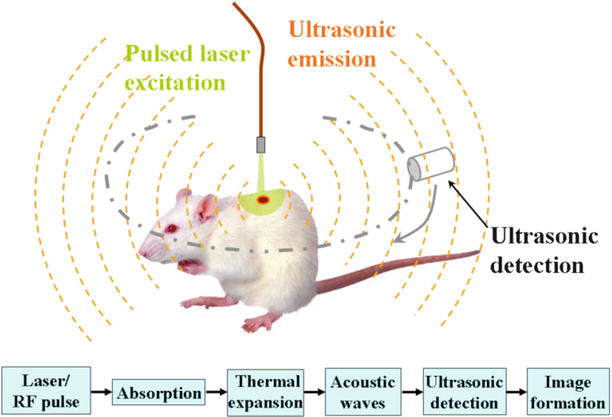 Fig. 6
Principle of photoacoustic imaging (Wikipedia)
Although photoacoustic imaging is an attractive technique for small animal imaging and for imaging of relatively superficial tumours, its value for diagnosis of ovarian cancer is probably low, as tumours and affected lymph nodes are located deep inside the pelvis.
Photodynamic Therapy
The last application of molecular imaging to be mentioned is photodynamic therapy (PDT), in which light is used to induce cell death. This is strictly not an imaging modality but is closely related as light is being used for a tumour-targeted therapeutic approach. A photosensitizer is activated by light of a specific wavelength, whereupon it initiates, in the presence of oxygen, a chemical reaction in which singlet oxygen (1O
2
) and oxygen radicals are generated. These in turn provoke immediate cell damage in the form of apoptosis or necrosis or indirect cell death through vascular damage, ischemia and inflammatory reactions [
8
]. A natural photosensitizer is protoporphyrin IX (PPIX), produced by cells during the haem cycle. Synthetic photosensitizers and prodrugs are increasingly being developed, with favourable characteristics for clinical application. The major disadvantage of PDT is phototoxicity in other tissues than the tumour, leading to strict living rules for patients and requiring a very well-designed illumination area. In case of a sprouting tumour, or a tumour close to vulnerable structures or organs, illumination can easily cause collateral damage, resulting in undesirable side effects.
Photo-immunotherapy (PIT) is a derivative from PDT in which the problem of harming surrounding structures is largely overcome. The photosensitizer is conjugated to a tumour-specific antibody, thus leading to tumour cell death only while leaving healthy tissue unharmed [
9
]. Unbound photosensitizer does not cause any phototoxicity.
Radioguided Imaging
Imaging plays an important role in cancer diagnosis and treatment follow-up. PET, SPECT, MRI, CT and combinations of these techniques are indispensable in clinical practice, and extensive research is performed to continuously improve sensitivity and specificity rates.
Positron Emission Tomography
In positron emission tomography (PET) scanning, gamma rays are used to detect a radionuclide that is taken up by certain molecules in the body. The most often used tracer is fludeoxyglucose conjugated to fluorine-18 (
18
F-FDG), which is a derivative of glucose that enables visualization of metabolically active cells and cell processes. Tumours and metastases require large amounts of glucose to support their high expansion rate; however, glucose uptake is not cancer specific. Tumour-specific PET scanning, using an antibody bound to a radioactive label, is now increasingly being performed in order to discriminate healthy tissue from malignant processes [
10
].
Single-Photon Computed Tomography
Similar to PET, single-photon emission computed tomography (SPECT) makes use of gamma rays to visualize the distribution of a radioisotope within the body. Its resolution of 1 cm performs worse than PET; however, the technique is significantly less expensive. Targeted SPECT can be performed similar to targeted PET, by using radiolabelled antibodies. Both PET and SPECT are often coupled to a CT scan for assessment of exact anatomical localization of lesions.
Magnetic Resonance Imaging
Magnetic resonance imaging (MRI) produces a large magnetic field that forces protons (H+; abundantly present in water molecules) in the body to align in the same direction. Short exposure with an electromagnetic field makes the protons flip and then realign, in which electromagnetic radiation is produced that is measured and processed into an image. MRI contrast agents, most based on gadolinium, are used to improve the signal from tumours, blood vessels or other specific tissues or structures. For several years, the use of iron oxide particles was considered feasible for imaging of solid tumours; however, most tracers are no longer produced because of safety matters.
Conjugation of ligands to gadolinium with the use of a chelator, often DTPA, yields tumour-specific MRI contrast agents that are likely to improve diagnostic accuracy [
11
].
Requirements for Molecular Imaging
In molecular imaging, the use of a sensitive detection system is essential to obtain adequate signal-to-noise ratios. Moreover, except in the case of bioluminescence and intrinsic fluorescence, a fluorescent agent with or without a target is required as well as an excitation light source of the appropriate wavelength.
Fluorescent Agent
The fluorescent agent can be either naturally expressed by a cell or organism or exogenously administered. Indirect fluorescence can range from staining of cells in vitro with, for instance, DAPI, in order to detect nuclei by fluorescence microscopy, to intraoperative detection of metastases in patients.
Virtually all objects emit fluorescent light to a certain level, albeit not visible by the naked eye because the signal is by far not strong enough to compete with the visible light. Fluorescence in the visible light spectrum (400–750 nm) is less suitable for imaging purposes, as background fluorescence is high. In contrary, imaging in the near-infrared (NIR) spectrum (750–1000 nm) yields a high signal-to-background ratio, as autofluorescence is minimized (Fig.
7
). In living organisms, light <700 nm is to a great extent absorbed by haemoglobin, while wavelengths longer than 950 nm suffer from absorption by water (Fig.
8
). Fluorescent agents that emit light in the NIR range are therefore most suitable for in vivo application [
5
]. Lower wavelengths cause damage in DNA and are therefore not used.

Fig. 7
NIR spectral range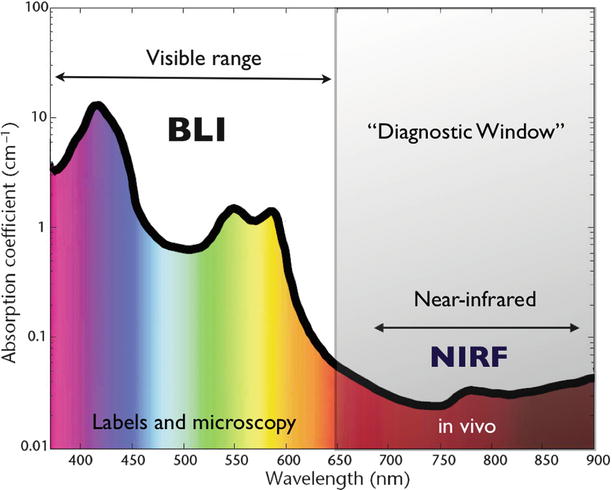 Fig. 8
Absorption in NIR spectral range
There are three types of fluorescent agents. First, non-specific fluorescent dyes that do not bind to cells but flow along with bodily fluids (blood, lymph or gall). These can be used for perfusion studies or to identify the sentinel lymph node in cancer. Second, targeted agents are fluorescent dyes that are conjugated to a small molecule or antibody that is directed at a certain biomarker. This allows for tissue-specific or tumour-specific imaging. Third, activatable probes do not emit light until cleaved by the appropriate enzyme (Fig.
9
). Currently, only three fluorophores are approved for clinical use: indocyanine green (ICG), fluorescein isothiocyanate (FITC) and IRDye800CW [
12
].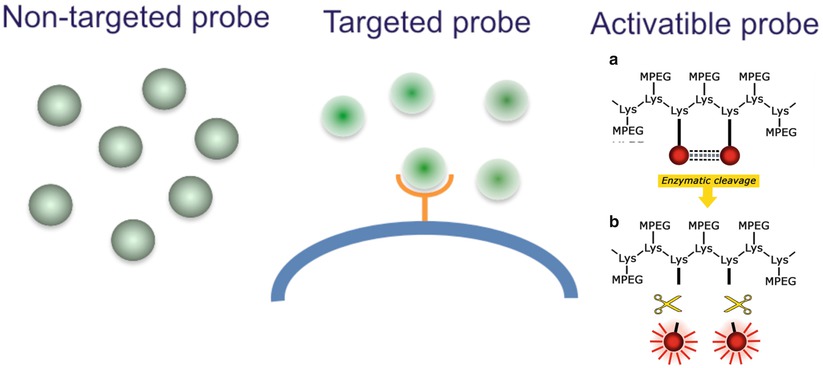 Fig. 9
Fluorescent agents: non-specific, targeted, activatable
Light Source and Imaging System
Because the human eye is incapable of detecting NIR light, a specialized imaging system is needed to transfer the fluorescence data into an image. Generally, the imaging system consists of one or multiple laser beams of a specific wavelength for excitation. The subsequently emitted signal is captured by a series of lenses and filters and processed by a sensitive charge-coupled device (CCD) camera. With the help of mathematical algorithms and software, most systems provide both a colour image and a fluorescence image. Some, but not all, are capable of superimposing the two, yielding an accurate representation of the fluorescent signal in the background. The list of imaging systems is long, with both preclinical and clinical cameras on the market (Fig.
10
). In the following sections on preclinical and clinical imaging, the relevant systems will be mentioned.

Fig. 10
Preclinical (
a
) and clinical (
b
) imaging systems
Targeted Imaging in Ovarian Cancer
Target Selection
In cancer treatment, the goal is to differentiate tumour cells from healthy cells. This requires the identification of tumour-specific biomarkers that can serve as targets for either fluorescent agents or targeted (chemo)therapy.
No validated system to select biomarkers has been designed yet, but a number of favourable characteristics can be mentioned [
13
]. (I) Tumour selectivity can only be achieved if the biomarker is present on malignant cells and absent or only weakly expressed by healthy cells, thus yielding a high tumour-to-normal ratio. (II) Both targeted imaging and (chemo)therapy require the majority of tumour cells to express the biomarker in a diffuse pattern (III). Although cell death can induce apoptosis in neighbouring cells, heterogeneous expression can lead to parts of the tumour being missed because overall expression is not sufficient. From an economical perspective, biomarkers that are present on the majority of tumours (i.e. in a majority of patients) are preferable. (IV) An extracellular or transmembraneous localization facilitates binding, while internalization (V) leads to accumulation and thus a higher fluorescent signal or a stronger chemotherapeutic effect. (VI) Enzymatic activity is needed when using activatable probes. (VII) For imaging purposes, a biomarker that has already been used in vivo and has shown no toxicity is favourable, as this may shorten the road to clinical application.
Targets in Ovarian Cancer
In ovarian cancer, numerous targets have been described for molecular imaging. However, most are far from implementation in the clinical setting due to lack of toxicity data. A small number of targets have been validated in either preclinical or clinical studies. In this section, only the biomarkers that are suitable for imaging are discussed.