Fig. 1
Sagittal T1-WI and SWI images (
a
,
b
) showing pulvinar T1 hyperintensity and SWI hypointensity (
arrowheads
) in a 30-year-old male with Fabry's disease (Images courtesy of D. Mandell)
Several studies have shown increased white matter diffusivity on diffusion-weighted and diffusion tensor imaging, predating structural changes. A recent MR study comparing white matter lesion load, white matter diffusivity changes, and arterial diameters, but not the T1 hyperintense pulvinar sign, has shown that increased basilar artery diameter is the best discriminator between patients with Fabry's disease and normal controls [
8
].
PRES
The term posterior reversible encephalopathy syndrome is a clinical and radiologic syndrome with specific imaging findings, characterized by reversible, mostly posterior territory, vasogenic edema, which is the end point of a myriad of different etiologies.
Other names used to describe the clinical or radiologic syndrome include hypertensive encephalopathy and reversible posterior leukoencephalopathy. Most authors prefer the term posterior reversible encephalopathy because up to 30 % of patients are not hypertensive at presentation, and imaging changes are often also present in the cortex and not limited to the white matter. Symptoms include headaches, decreased alertness, altered mental functioning, seizures, and visual loss occasionally attributable to cortical blindness.
The clinical and imaging findings have been associated with preeclampsia/eclampsia, posttransplant disorders, renal failure, immune suppression, infection and sepsis, autoimmune disease, chemotherapeutic agents, and numerous other miscellaneous conditions.
Pathophysiology
Although several theories of PRES etiology exist, two main hypotheses are likely. The original theory suggests that hypertension leads to autoregulatory vasoconstriction and hypoperfusion, ischemia, and edema. A more popular theory suggests that severe hypertension results in breakthrough of the autoregulatory mechanism leading to edema.
There has been a recent resurgence of interest in the original theory, as a result of several studies showing that about 30 % of patients who develop symptoms and imaging findings compatible with PRES are not hypertensive or demonstrate cerebral hypoperfusion. Further, several of the underlying diseases or agents associated with the development of PRES affect endothelial cell function [
9
].
Pathology
The white matter and cortical edema tends to concentrate in the parieto-occipital regions. Pathology reports of biopsy specimens have shown findings of white matter vacuolation, consistent with white matter edema often with mild inflammatory reaction and, less commonly, findings of neuronal necrosis and petechial hemorrhages [
10
]. Autopsy specimens have shown fibrinoid necrosis of arterioles with thrombosis of arterioles and capillaries, as well as parenchymal microinfarcts and petechial hemorrhages thought to be secondary to vascular changes. Occasionally, pathology specimens have revealed evidence of white matter pallor, attributed to demyelination and astrocytosis [
11
].
More recent pathology reports have revealed evidence of perivascular T-cell trafficking, endothelial activation, endothelial immunoreactivity to tumor necrosis factor-alpha, robust endothelial VEGF mRNA transcription, and VEGF protein expression [
9
].
Imaging Findings
RCVS
Reversible cerebral vasoconstriction syndrome (RCVS) is defined as a group of disorders that result from prolonged but reversible vasoconstriction of the cerebral arteries. It is usually associated with acute onset, severe headaches and may be accompanied by other neurological signs. Spontaneous resolution of the vasoconstriction is usually seen in 1–3 months [
17
]. In its broadest definition, the term encompasses disorders of numerous etiologies characterized by reversible vasospasm which do not show histologic hallmarks of vasculitis. RCVS has been known in the literature by multiple names including Call-Fleming syndrome, benign angiopathy of the central nervous system, thunderclap headache with reversible vasospasm, and migrainous angiopathy. Reversible vasospasm in the setting of known etiologic factors such as drug-induced vasculopathy, hypercalcemia, unruptured saccular aneurysm, dissection, postcarotid endarterectomy, and postpartum angiopathy is also included in the umbrella term of RCVS [
17
]. Known etiologic factors account for up to 25–60 % of cases of RCVS [
18
].
Epidemiology
The age of onset of RCVS peaks at around 45 years of age and is more common in females, with a 2.6:1 preponderance in a French study to 10:1 in Taiwanese study [
18
].
Clinical
Presentation is similar to aneurismal rupture and characterized by rapid onset thunderclap headache, peaking in less than 1 min and recurring over 1–2 weeks.
Diagnostic criteria were defined by Calabrese and include: [
17
]
1.
Transfemoral angiography or indirect (CT or MRI) angiography documenting segmental cerebral artery vasoconstriction.
2.
No evidence of aneurismal subarachnoid hemorrhage.
3.
Normal or near-normal cerebrospinal fluid analysis (protein level <80 mg/dL, white blood cell count <10/μL, normal glucose level).
4.
Severe, acute headache, with or without additional neurological signs or symptoms.
5.
The diagnosis cannot be confirmed until reversibility of the angiographic abnormalities is documented within 12 weeks of onset. If death occurs before the follow-up studies are completed, autopsy should rule out conditions such as vasculitis, intracranial atherosclerosis, and aneurismal subarachnoid hemorrhage, which can also manifest with headache and stroke.
CSF analysis must be performed to rule out subarachnoid hemorrhage in patients presenting with thunderclap headache, with normal imaging findings. CT and MRI are usually normal. Occasionally, there may be a small amount of subarachnoid hemorrhage overlying the cortical surface or in the parenchyma. In 10–39 % of patients, findings may result in ischemic or hemorrhagic parenchymal strokes [
19
] (Fig.
3a, d
). Reversible brain edema, compatible with PRES, is seen in about 10 % of patients [
19
].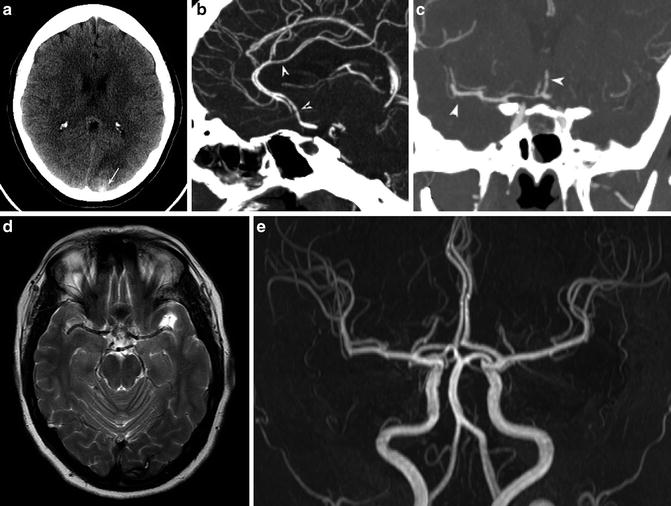 Fig. 3
Reversible cerebral vasoconstriction syndrome. A 36-year-old female presented with an acute thunderclap headache. (
a
) CT shows occipital parenchymal (arrow) and subarachnoid hemorrhage. (
b, c
) CTA performed the same day shows beading within middle cerebral artery (MCA) and anterior cerebral artery (ACA) territories (arrowheads). Lumbar puncture and serum biochemistry results revealed no evidence of an inflammatory process. The patient was diagnosed with RCVS, and steroids were withheld. (
d
) MRI T2-WI study performed 3 months later shows residual hemosiderin deposition in the left occipital lobe. (
e
) Concurrent MRA shows complete resolution of arterial narrowing
CTA and MRA usually show segmental beading and intermittent dilatation of vessels (string of beads) [
17
] (Fig.
3b
,
c
). Initial noninvasive angiography may be negative or show distal vessel irregularities. Maximum vessel constriction involving the proximal arterial beds usually occurs 18–22 days following headache onset, often at the time of headache resolution, and may persist for several weeks. This has led some authors to speculate that it is actually the vascular dilation, and not constriction, which is responsible for pain and microvascular rupture resulting in hemorrhage [
20
]. The gold standard in diagnosis remains catheter angiography, which has shown a sensitivity of 100 % compared to noninvasive methods (MRA and CTA) which showed sensitivities of around 75 % [
19
].
Recent studies have shown an association between RCVS and vertebral or carotid artery dissection, particularly in postpartum females, and it may be prudent to screen the neck vessels, particularly in patients who present with neck pain [
19
].
The foremost mimicker of RCVS is primary angiitis of the CNS (PACNS), while the clinical symptoms are usually more gradual in onset in angiitis. Headache is usually subacute and progressive, rather than thunderclap type, and may be accompanied by transient neurological deficits eventually progressing to stroke. Asymptomatic infarcts are often seen on initial MR studies. Angiographic findings may lead to clinical confusion due to their similarities in the two pathologies.
Distinguishing features are that in at least 70 % of cases, MRI will be normal in RCVS, while it will be abnormal in PACNS in up to 90 % of cases showing multiple, deep, or superficial infarcts of different ages. CSF analysis should be normal in RCVS and abnormal in over 95 % of PACNS cases. Irregular, eccentric, and asymmetric occlusions without interspersed dilations are more suggestive of a vasculitis rather than RCVS [
18
]. However, such subtle angiographic differences may be difficult to appreciate, particularly due to the limits in spatial resolution of noninvasive angiography. Vessel wall imaging, which utilizes a single inversion recovery-prepared fast spin echo black blood T1-WI sequence prior to and following contrast administration, has shown promise in distinguishing the two entities [
21
]. Vessel wall enhancement is seen with inflammatory processes affecting the vessel lumen and is absent in RCVS.
Moyamoya
Moyamoya syndrome is an occlusive cerebrovascular disease which affects the terminal internal carotid arteries and proximal circle of Willis vessels. Associated engorgement of the lenticulostriate and thalamoperforating leads to the moyamoya or "puff of smoke" appearance on angiography. Moyamoya disease refers to the idiopathic form of the arteriopathy; moyamoya syndrome refers to an association with other pathologic processes including neurofibromatosis, sickle cell anemia, Down syndrome, and prior cranial irradiation.
Cerebral Autosomal Dominant Arteriopathy with Subcortical Infarcts and Leukoencephalopathy (CADASIL)
Cerebral autosomal-dominant arteriopathy with subcortical infarcts and leukoencephalopathy is a genetic small artery disease that leads to dementia and early death.
Its main clinical features include migraine with aura, ischemic events, mood disturbances, and cognitive impairment. Other presentations such as apathy or seizures have also been described. Dementia and dependence are prominent features of the end stages of the disease [
40
].
Epidemiology
The prevalence of the disease is reported as 2–4 per 100,000. The mean age of disease onset is in the mid third decade, with earlier discovery of the disease in patients presenting with migraine (mean age 28 years) than those with stroke (mean age 41 years) [
41
]. The median age of death is reported as 65 years for males and 71 years for females, with 80 % of patients dependent by the time of death [
40
].
Genetics
CADASIL is a genetic disorder due to mutations in the extracellular domain of the Notch 3 gene located on chromosome 19. The gene contains 33 exons, but only mutations in exons 2–24 occur in CADASIL, 60 % occurring in exons 3 and 4.
Pathology
Macroscopic examination shows diffuse myelin pallor sparing the U-fibers. Lacunar infarcts are seen in the white matter and basal ganglia. Pontine involvement is most common in the brainstem, with relative sparing of the medulla. Microscopic examination reveals a classic non-amyloid granular osmiophilic material in the media extending into the adventitia of small- and medium-sized leptomeningeal arteries.
Fibrosis of the adventitia and sometimes duplication and hyalinosis of the lamina are described. Loss of vascular smooth muscle cells occurs but to a lesser extent than in Binswanger's dementia [
42
]. Apoptosis in layers 3 and 5 of the cortex is associated with increased severity of white matter lesions [
43
].
MRI Imaging
MR imaging shows areas of FLAIR hyperintensity in the white matter, pons, and external capsules (Fig.
6
).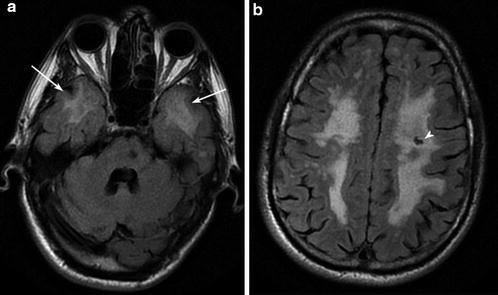 Fig. 6
CADASIL Axial FLAIR images show widespread T2 signal hyperintensity in the periventricular, deep, and subcortical white matter, volume loss, temporal pole involvement (
arrows
), and subcortical lacunar infarcts (
arrowhead
)
Microbleeds are seen in 25–69 % of patients and were present most frequently in the thalami, cortical/subcortical regions, white matter, pons, and basal ganglia [
44
,
45
]. Number does not correlate with white matter lesion burden, but is increased with age. Similarly, dilated Virchow-Robin spaces, mainly in the lentiform nuclei and subcortical white matter of the temporal lobes, are seen significantly more frequently in CADASIL patients than age-matched controls and show a correlation with increasing age, not white matter lesion burden [
46
].
Recent studies have shown a correlation with the disease burden at diagnosis and severity of progression [
44
].
CARASIL
Cerebral autosomal recessive arteriopathy with subcortical infarcts and leukoencephalopathy is a recently recognized single gene disorder caused by mutations in the HTRA1 gene. Its prevalence is currently unknown, with approximately 50 patients described in the literature to date, mostly from Japan with a 3:1 male to female ratio.
Its main clinical manifestations are ischemic stroke, progressive dementia, early alopecia, and spondylosis deformans. Ischemic stroke occurs in about half of patients and the onset of dementia is in the fourth decade (mean 32 years). Alopecia, seen in 90 % of patients, usually presents in the third decade, but may be seen in adolescence. Low back pain is seen in 80 % of patients, with an onset between 20 and 40 years.
CT shows diffuse white matter hypodensity, volume loss, and corticospinal tract Wallerian degeneration. Similarly, MRI studies show T2 hyperintense periventricular and deep white matter lesions, with some sparing of U-fibers. Lesions subsequently extend into basal ganglia, thalami, brainstem, and cerebellum. Temporal lobe involvement may be seen, similar to CADASIL [
47
].
Vasculitis
PACNS
Primary angiitis of the CNS (PACNS) is a rare, potentially severe, form of vasculitis that involves the small- (200–300 μm in diameter) and medium-sized (500 μm) vessels of the brain and spinal cord. PACNS is also referred to as granulomatous angiitis, granulomatous giant cell angiitis, noninfectious granulomatous angiitis, and isolated angiitis. Its current name reflects the fact that many cases have a non-granulomatous histology.
Takayasu
Epidemiology – 1–2/1,000,000, with more reports initially in South East Asia, but recent reports also in the western world.
Pathology
This is a large-vessel vasculitis with predominant involvement of the aorta and great vessels. Histologically, findings are those of a chronic large-vessel vasculitis characterized by lymphocytic, NK cell, neutrophil, and macrophage infiltration in the outer thirds of the media and adventitia. Giant cells and granulomas have been described. The elastic fibers are fragmented, and there can be loss of smooth muscle cells, medial weakening, and vascular dilation. Reactive fibrosis and aneurismal formation is seen.