Fig. 1
Conventional digital subtraction angiography of the left internal carotid arteries of a pediatric moyamoya disease patient. Anterior-posterior view (
a
–
c
) and lateral view (
d
–
f
) show steno-occlusive change of the terminal portion of the left ICA and moyamoya vessels in the perforator artery of the basal ganglia
Epidemiological Features
Geographical Distribution
East Asian countries feature the highest incidence of moyamoya disease, more particularly Japan and the Republic of Korea. A study conducted in Japan reported the total annual number of moyamoya disease patients at 3,900, with prevalence and annual incidence rates of 3.16 and 0.35 per 100,000, respectively, in 1994. The female-to-male ratio was 1.8 and 10 % of the patients had a family history of the disease. The distribution of the age at onset has two peaks: a dominant peak at 5 years of age and a more modest peak around the late 20s to 30 years of age [
4
]. A recent review of regional differences shows that incidences per 100,000 patient-years ranged in Japan from 0.35 to 0.94 (95 % CI 0.69–1.19) and in the USA from 0.05 (−0.04–0.12) in Iowa to 0.17 (−0.06–0.40) in Hawaii and were 0.41 (0.28–0.54) in Nanjing, China, and 0.02 (0.003–0.04) in Taiwan. The female-to-male ratio ranged from 1.1 (0.9–1.5) in Nanjing to 2.8 (1.2–6.1) in Iowa. Proportions with cerebral hemorrhage as the initial presentation were 56 % in China, 52 % in Taiwan, 29 % in Hawaii, 21 % in Japan, and 10 % in Iowa. Patients with childhood onset presented most often with ischemia (more than 75 %) in all regions [
5
].
Gender and Age Distribution
MMD has two peak ages of onset, initially at 5 years of age (pediatric or juvenile type) and subsequently at 30–50 years of age (adult type). Peak age in male is 10–14 years and 35–49 years, whereas peak in female is 20–24 years and 50–54 years [
6
]. In 2003, the total number of patients treated in Japan was estimated at 7,700. The female-to-male ratio was 1.8, and a family history was found in 12.1 % of patients. The prevalence rate was calculated at 6.03 per 100,000, and the annual rate of newly diagnosed cases was 0.54 per 100,000. In 2009, an analysis of the regional all-inclusive epidemiological data obtained in Hokkaido, a major island of Japan counting a population of 5.63 million [
7
], reported a prevalence of 10.5 patients per 100,000 and an annual incidence of 0.94 per 100,000, both of which greatly exceeded the results of the previous surveys. The female-to-male ratio was 2.18 and the age of onset occurred in two peaks with a different trend: the highest peak arose between 45 and 49 years, and the second occurred between 5 and 9 years. A familial history was observed in 15.4 % of patients. These epidemiological features differ significantly from the data obtained in previous studies. However, the higher detection and prevalence reported may not reflect an actual increase in the incidence of moyamoya disease, but may rather be due to the increased availability of noninvasive diagnostic tools, such as MRI/MR angiography.
Moyamoya disease patients' age distribution shows characteristic bimodal pattern, pediatric and adult patients. The precise mechanism for this bimodal distribution has not been determined. In the pediatric patients, the rapidly progressing maturation of the brain may precipitate deficiency of a balance with cerebral blood flow maturation, and as a consequence, patients progress to develop ischemic attack. However, still many things are unknown about pediatric normal development of cerebral blood flow. This lack of balance between maturation of the brain and development of cerebral blood flow might not be able to explain the full mechanism of the development of ischemic attack in pediatric moyamoya disease patients. In adult moyamoya disease patients, hemorrhagic symptom can occur more commonly than in pediatric patients. In adult moyamoya patients, prevalence of ischemic and hemorrhagic symptom is almost the same.
Another unsolved issue of moyamoya disease is why the number of patients between these pediatric and adult moyamoya patients is small. About this issue, ischemic symptom which commonly occurs in pediatric period may become unlikely to occur because a balance between brain maturation and cerebral blood flow will be achieved. After getting over this dangerous pediatric period, moyamoya disease patient may become symptomatic due to a decrease of cerebral blood flow by arteriosclerosis in the adult period.
Familial Moyamoya Disease
An epidemiological feature of moyamoya disease is the high incidence of familial occurrence, which accounts for about 15 % of patients [
8
]. In patients with familial incidence, the ratio of women to men was reported to equal 5.0, as opposed to only 1.6 in sporadic cases; the mean (SD) age of onset was 11.8 (11.7) years in familial cases vs. 30.0 (20.9) years in sporadic cases. Out of eight parent-offspring pairs, all were paired with the mother. While parents presented the onset of symptoms at the age of 22–36 (mean 30.7 [7.5] years), their offspring presented symptoms much earlier, within 5–11 years of age (mean 7.2 [2.7] years). This phenomenon is called clinical anticipation. Clinical anticipation was reported in triplet repeat disease; however, triplet repeat has not been reported in moyamoya disease patients. This indicates a strong genetic association with a female predominance in cases of familial moyamoya disease [
9
].
Pathogenesis of Moyamoya Disease
Cytokines
Most studies about cytokines in moyamoya disease patients have been performed by the examination of cerebrospinal fluid (CSF) sampled from the subarachnoid space during surgical therapy. Angiogenetic cytokines such as basic fibroblast growth factor (b-FGF), hepatocyte growth factor, and transforming growth factor (TGF) showed increased concentrations in the CSF as well as in other surgical specimens such as the arterial wall specimens and the meningeal specimens. Among these cytokines, angiogenetic cytokine b-FGF has been thought to be related with several findings in moyamoya disease: steno-occlusive lesion in the circle of Willis, the development of moyamoya vessels and dilatation of the cortical small arterioles, and angiogenesis after surgical indirect synangiosis therapy. Reportedly, b-FGF induces the proliferation of vascular endothelial cells, which may precipitate the stenosis of the major arteries. On the contrary, b-FGF has also an angiogenetic and dilatation effect on the small arteries, which may explain the development of moyamoya vessels and the dilated pial arterioles on the cortex in moyamoya disease [
10
].
The role of cytokine abnormality in moyamoya disease has not yet been totally determined. Elevation of cytokines in the CSF may simply reflect the response of cytokines to hypo-oxygenation status in moyamoya disease. In this scheme, elevated concentrations of cytokines may simply be a consequence of hypo-oxygenation but not a direct pathogenesis of moyamoya disease. Validation study for the elevation mechanism of cytokine levels will be necessary [
10
].
Genetic Factors
In cases of familial moyamoya disease, the gene loci 3p24-p26 and 8q23 have been identified using genome-wide analysis, while loci 6q25 and 17q25 were determined using chromosomal search.
Cases of unilateral moyamoya disease progressing to bilateral moyamoya disease have been well known, as well as progression of major artery stenosis on the contralateral side to the initial disease. It has thus been suspected that major artery stenosis, unilateral moyamoya disease, and bilateral moyamoya disease were among a spectrum of relational phenomena, based on genetic susceptibility. In addition, familial moyamoya disease has been known to be an autosomal dominantly inherited disease with incomplete penetrance, and various stages of the disease are thus observed in familial moyamoya disease patients. From these points, a combination of internal genetic factors and external environmental factors has been believed to be relevant for disease occurrence or progression. These mechanisms of moyamoya disease have been reported to be relevant with three heterogeneities, disease heterogeneity, genetic heterogeneity, and locus heterogeneity [
11
].
Recently, a genome-wide association study identified ring finger protein (RNF)213 (
http://​omim.​org/​entry/​613768
) as the first moyamoya disease gene [
12
]. Also, another genome-wide linkage analysis by assuming the inheritance pattern of moyamoya disease as autosomal dominant mode with incomplete penetrance and whole genome-exome analysis provided evidence suggesting the involvement of RNF213 in genetic susceptibility to moyamoya disease [
13
]. Further studies are ongoing to clarify the biochemical function and pathological role of RNF213 in moyamoya disease [
14
].
Asymptomatic Moyamoya Disease
Unilateral Moyamoya Disease
Based on the current diagnostic guideline [
3
], unilateral moyamoya disease in adult patient is diagnosed as probable moyamoya disease and refers to the presence of unilateral steno-occlusive change of the terminal portion of the internal carotid arteries accompanied by the formation of moyamoya vessels around that region. These unilateral changes may occur concurrently with other underlying diseases, such as hyperthyroidism, intracranial arteriovenous malformation, Down's syndrome, Apert syndrome, von Recklinghausen's disease (neurofibromatosis type 1), postirradiation therapy of the brain, systemic lupus erythematosus, and Sjögren's syndrome; in these situations, the patient's condition is classified as quasi-moyamoya disease and not as unilateral moyamoya disease [
3
]. In children, unilateral moyamoya disease associated with stenosis of the terminal portion of the internal carotid arteries should be considered as definitive moyamoya disease and not as probable moyamoya disease [
19
].
The frequency of unilateral moyamoya disease was reported as 10.6 % within 2,635 patients with moyamoya disease, including initially diagnosed and re-diagnosed patients [
3
]. A family history is occasionally present in patients with unilateral moyamoya disease. An analysis of 15 families having a family history of moyamoya disease in 3 or more generations revealed 5 patients with concurrent unilateral moyamoya disease in addition to 43 patients with definitive moyamoya disease and suggested the possibility that the disease was inherited by the same autosomal dominant inheritance pattern. From this observation, unilateral moyamoya disease with a family history can also be considered as a subtype of moyamoya disease. In addition, unilateral moyamoya disease without a positive family history should be distinguished from definitive bilateral moyamoya disease [
20
].
The symptoms of unilateral moyamoya disease are the same as those of definitive bilateral moyamoya disease. Ischemic symptoms, hemorrhagic symptoms, concurrent cerebral aneurysm, involuntary movement, and headache may be noted.
The reported frequency of progression from unilateral to bilateral moyamoya disease varies from 10 % to 39 % [
21
]. Each study cohort consists of a limited number of patients; therefore, progression rate from unilateral to bilateral disease may be influenced by the number of patients. Progression to bilateral moyamoya disease may not only affect pediatric patients but also adult patients. The statistically significant risk factors for progression to bilateral disease have been reported to be the presence of equivocal or mild stenotic changes in the terminal portion of the ICA, the middle cerebral artery (MCA), or the anterior cerebral artery (ACA) of the contralateral side [
22
] (Fig.
3
).

Fig. 3
A case of unilateral moyamoya disease patient shows right ICA stenosis on MRA. MIP image of TOF-MRA shows right ICA stenosis (
a
). Moyamoya vessels are not prominent in the cistern both on T2-WI image and TOF-MRA source image (
b
,
c
)
Quasi-moyamoya Disease
Quasi-moyamoya disease refers to the presence of steno-occlusive change of the terminal portion of the ICA accompanied by an abnormal vascular network in association with an underlying disease. Even in cases with unilateral lesions, if an underlying disease is present, the condition can be considered as quasi-moyamoya disease. Unilateral moyamoya disease in adult patient without underlying disease should be considered as probable moyamoya disease and should be differentiated from quasi-moyamoya disease. Quasi-moyamoya disease has been reported to affect people of all races. Concurrent occurrence with underlying congenital disease is more frequent in children; however, concurrent occurrence with acquired underlying disease is more frequent in adults [
3
].
The following illnesses have been reported as underlying diseases: atherosclerosis, autoimmune disease (systemic lupus erythematosus, antiphospholipid antibody syndrome, periarteritis nodosa, and Sjogren's syndrome), meningitis, von Recklinghausen's disease (neurofibromatosis type I), brain tumors, Down's syndrome, head injury, irradiation, hyperthyroidism, stenocephaly, Turner's syndrome, Alagille syndrome, Williams syndrome, Noonan's syndrome, Marfan syndrome, tuberous sclerosis, Hirschsprung's disease, glycogen storage disease type I, Prader-Willi syndrome, Wilms tumor, primary oxalosis, sickle cell disease, Fanconi's anemia, spherocytosis, eosinophilic granuloma, type II plasminogen deficiency, leptospirosis, pyruvate kinase deficiency, protein S deficiency, protein C deficiency, fibromuscular hyperplasia, osteogenesis imperfecta, polycystic kidney, oral contraceptives, and poisoning (cocaine poisoning) [
3
].
Epidemiology of quasi-moyamoya disease was reported in the annual report of the Research Committee on Spontaneous Occlusion of the Circle of Willis (Moyamoya Disease) of the Ministry of Health, Labour and Welfare, Japan 2011 (
http://​mhlw-grants.​niph.​go.​jp/​niph/​search/​NIDD02.​do?​resrchNum=​201128175A
). Prevalence of quasi-moyamoya disease is reported as 5.4 % in a total of 7,941 moyamoya disease patients and 0.34 patients per 100,000 populations. Annual incidence of quasi-moyamoya disease is 0.11 patients per 100,000 populations.
Symptom of quasi-moyamoya disease may be epilepsy, headache, or asymptomatic. Concurrent presence of symptoms associated with mental retardation due to underlying disease and symptoms associated with cerebrovascular disorder may cause a relatively complicated clinical condition for the precise diagnosis. Cerebral conventional digital subtraction angiography can show various findings from those very similar to definitive moyamoya disease to be rather different, such as atherosclerotic lesions. Pathological findings also vary according to the underlying disease. Treatment of quasi-moyamoya disease is like that of definitive moyamoya disease. The effect of revascularization on the prevention of rebleeding in patients with quasi-moyamoya disease has not yet been clarified. In quasi-moyamoya disease, unilateral disease may progress to bilateral disease. The nature of the underlying diseases influences the prognosis of patients with quasi-moyamoya disease (Fig.
4
).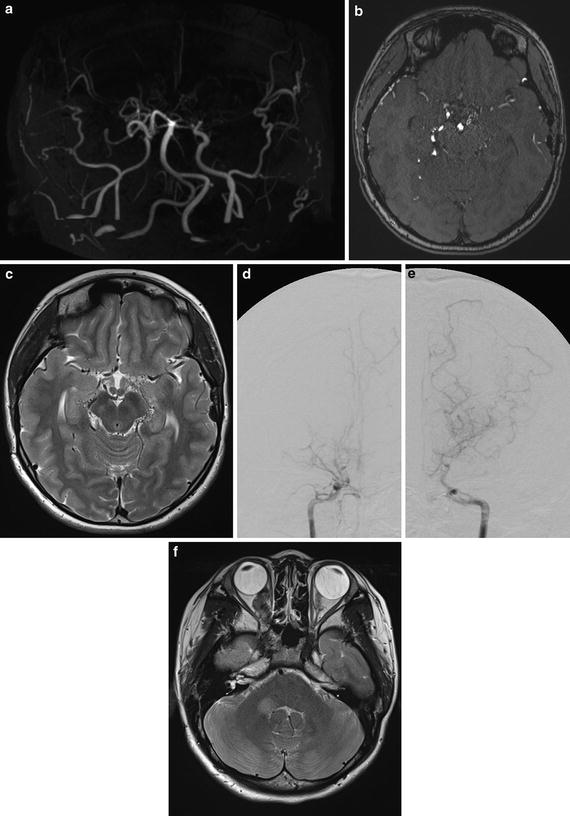 Fig. 4
Images of a quasi-moyamoya disease (neurofibromatosis type I, von Recklinghausen disease) patient are shown. MIP image of TOF-MRA (
a
) shows steno-occlusive change of bilateral ICA. Source image of TOF-MRA shows cisternal moyamoya vessels as high-signal spots, which are also apparent on T2-WI image flow voids in the cistern. (
b
,
c
) Conventional digital subtraction angiography images (
d
,
e
) show steno-occlusive change and moyamoya vessels more apparently. On T2-WI image, right optic nerve mass lesion and high-signal area in the right cerebellar peduncle are apparent; those are characteristic lesion of neurofibromatosis type I (
f
)
Systemic Vessel Involvement of Moyamoya Disease
In addition to intracranial arterial steno-occlusive lesions associated with moyamoya disease, steno-occlusive lesions of extracranial arteries including renal, coronary, pulmonary, mesenteric, and peripheral arteries have also been reported [
23
]. Among these extracranial arteries, moyamoya disease most commonly affects the renal artery. The prevalence of renal artery involvement in moyamoya disease patients ranges from 5 % to 8 %. In most cases of moyamoya disease, in which the renal artery was involved, renal artery stenosis mainly involves the proximal one-third of the main branch. Severe stenosis case can precipitate renovascular hypertension. Although the definitive cause and pathogenesis of moyamoya disease remain unclear, pathologic studies of the steno-occlusive lesions of the cerebral vessels typically reveal fibrous thickening of the intima with a small amount of lipid deposition. Inflammatory cell infiltration is not noted in the vascular walls, and the internal elastic lamina is well preserved. Similar histological findings of intimal fibrous thickening in the extracranial vessels have been reported in autopsy cases of moyamoya disease [
23
].
Pathological Features
Pathological evaluation of involved vessels in moyamoya disease has shown that the outer diameters of the terminal portions of the relevant ICA are markedly diminished. In addition to outer diameter change, fibrocellular thickening of the intima, an irregular undulation (waving) of the internal elastic lamina, and attenuation of the media have been reported in a histological finding in the vascular wall of the ICA [
24
,
25
]. Data from recent studies have suggested that caspase-3-dependent apoptosis might be associated with these histological changes in the vascular wall of moyamoya disease patients [
26
].
Moyamoya vessels consist of dilated perforating arteries, which can show a wide range of histological findings, including fibrin deposits in the wall, fragmented elastic lamina, attenuated media, and the formation of microaneurysms. In the early stage of the disease (stage I according to Suzuki's angiographic classification), moyamoya vessels are rarely observed. Steno-occlusive change of the arterial lumen and subsequent thrombosis can also be seen in the moyamoya vessels [
27
]. Therefore, these histological changes might have close association with the onset or progression of ischemic or hemorrhagic stroke in moyamoya disease.
Clinical Features
Diagnostic Evaluation
Get Clinical Tree app for offline access