Fig. 1
Diagnostic angiogram of bilateral common carotid artery in a 3-year-old boy reveals tapering and occlusion of the right internal carotid artery and typical arterial beading and moderate stenosis of proximal left internal carotid artery (
a
,
b
). MRI revealed bilateral parieto-occipital region acute infarcts (not shown). Volumetric reconstruction shows moderate focal stenosis of midsegment of the main renal artery (
c
)
Intracranial FMD is described in conjunction with carotid involvement or as isolated findings. Angiography may show a typical string of bead appearance or multiple aneurysms and arterial tortuosities. Intima is as commonly affected as media, and most cases are reported in pediatric population [
2
].
Though typical angiographic appearance is confirmatory of FMD, the test is invasive, and similar findings can be observed by other noninvasive studies such as US, CTA, or MRA. Distal carotid, vertebral artery, and intracranial circulation are better evaluated with CT or MRI, and in the current scenario, angiography is only performed if revascularization is planned. Besides diagnosis, imaging also helps in the surveillance of intracranial aneurysms.
Vasculitis
Takayasu Arteritis
Takayasu arteritis (TA) is a chronic inflammatory disease of large arteries affecting predominantly aorta, subclavian, carotid, renal, and pulmonary arteries. Though reported from all over the world, the disease is more prevalent in Asian population. The affected individuals are usually young and female, and since the initial symptoms are nonspecific, the time to diagnosis is often delayed by months to years. Initial inflammatory symptoms include anorexia, weight loss, malaise, fever, myalgia, arthralgia, or carotidynia. The disease shows progressive or relapsing remitting course and finally burns out. The clinical presentation is often related to the extent of compensatory collateral development in the affected vascular territory, and symptoms can significantly hamper the daily activities in more than two thirds of TA patients [
9
].
The cerebral manifestations of TA include headache, dizziness, visual disturbances, stroke, TIA, or rarely subarachnoid hemorrhage and intracerebral bleeds. The reported incidence of these symptoms is quite variable with minor symptoms noted in more than 50 % of patients and dreaded events such as TIA or stroke observed in 10–35 % of patients [
10
,
11
]. Ischemic manifestations may be due to hemodynamic insufficiency or thromboembolic phenomenon. Intracranial stenosis is a rare important cause for stroke in TA [
12
]. Subarachnoid hemorrhage secondary to aneurismal rupture is also rarely reported in TA. The aneurysms are common in the posterior circulation, and persistent hypertension and altered hemodynamic factors are thought to play a role in its genesis. Necrosis and destruction of wall and elastic lamina are also reported; however, primary arteritis seems unlikely [
13
].
Vasa vasorum (VV) is assumed to play an important role in the pathogenesis of TA. Inflammatory cells infiltrate the VV and incite the chronic and granulomatous inflammatory reaction that spreads across to involve the media and adventitia layer of the artery. The adventitia and media are thickened, and intimal layer shows hyperplasia. The smooth muscles and elastin of media are destroyed, and the panarterial layer is gradually replaced by diffuse or nodular fibrotic lesions resulting in the development of stenosis or eventual occlusion of the artery [
9
,
14
,
15
]. Extensive destruction followed by inadequate fibrosis response leads to the formation of arterial aneurysms. The prognosis of TA has improved over the last decade primarily due to earlier diagnosis, utilization of imaging to assess disease progression, and advances in medical therapy [
16
]. The major morbidity or mortality is related to the development of cardiac failure or stroke. Premature atherosclerosis further adds to the increased cerebral risks. Diagnostic criteria introduced by Ishikawa and the American College of Rheumatology are purely clinical and demonstrated more than 90 % sensitivity and specificity for TA. European consortium for diagnosis of childhood TA includes imaging cognates as well and had reported very high sensitivity and specificity nearing 100 % [
9
].
The gold standard imaging study for the evaluation of TA has been a conventional angiogram, though recently, CT and MRI have been increasingly employed to study the luminal and extraluminal features with high degree of accuracy. Typical changes described in cerebral angiography include:
1.
Irregularity of contour of artery: This is the earliest change seen and is mainly due to intimal fibrous thickening.
2.
Stenosis caused by circumferential thickening indicating advanced disease.
3.
Complete occlusion due to thrombosis in a stenosed segment or due to the disease process itself. Stenosis or occlusion often occurs at or close to the origin of the branches of aorta.
4.
Diffuse dilatation or ectasias due to destruction of media leading to irregular uniform widening of carotid.
5.
Aneurysm saccular or fusiform : As there is a thick adventitial covering rupture of blood vessel which is uncommon.
6.
Combination of lesions: Stenosis and aneurysms.
The angiograms are infrequently performed and are increasingly replaced by noninvasive imaging modalities such as CT/MRI and US. The angiography is performed as a part of interventional procedure or to assess the hemodynamic status of cerebral circulation in patients presenting with TIA/stroke or hemorrhage.
Since carotid artery is superficial, US can detect many of these changes involving common carotid artery and internal carotid artery such as stenosis, occlusion, or aneurysm formation. Besides, it can demonstrate the extraluminal arterial wall thickening and helps in the diagnosis as well as monitoring of further progression. It also provides information regarding the direction of flow in carotid and vertebral artery, which is useful while planning therapy. Limitations include inability to visualize the arteries in entirety.
Cross-sectional imaging such as MRI and CT can demonstrate mural thickening of the arterial wall, extent of thickening, intraluminal thrombosis, steno-occlusive lesions, collateral pathways, and aneurysm formation. MRI has the advantage of superior tissue characterization and helps to delineate inflamed/fibrosed media and adventitia-periadventitial regions and edematous intima [
16
].
Disease activity monitoring: Activity is best followed up by hematological parameters including erythrocyte sedimentation rate and C-reactive protein assessment. Recent reports suggest good correlation between the disease activity and the delayed gadolinium enhancement of the wall of the artery especially aorta. Thus MRI could become an important modality in assessing the disease progression of the patient. Caution needs to be exercised; however, while interpretation as MRI lacks specificity, wall edema and enhancement may be observed in clinically dormant phase as well [
17
,
18
].
The imaging studies show stenosis and/or occlusion of common carotid arteries, aneurysms of unilateral or bilateral carotid arteries, intraluminal thrombosis, and rarely dissection of the carotid artery. Extensive collateralization of external carotid artery through ascending cervical and thyrocervical arteries may be visualized reforming the internal carotid artery. Tortuous vascular channels may be visualized within the arterial wall which is in fact the vasa vasorum that develops secondary to ischemia of the arterial wall or cerebral parenchyma. Intracranial arteries may show occlusion or arterial wall thickening (Fig.
2
). Rarely nonaneurysmal SAH has been reported [
19
–
21
].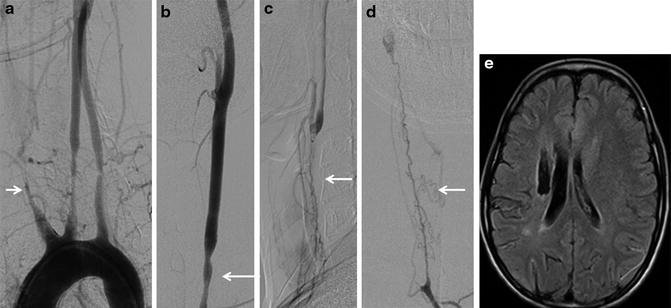 Fig. 2
This young lady presented with multiple events of acute cerebral ischemia. Aortogram demonstrates tapering of brachiocephalic artery, occlusion of bilateral subclavian artery, and moderate intermediate length smooth stenosis of proximal left common carotid artery (
white arrows
in
a
,
b
). Thin tortuous channels are seen along the course of the right common carotid artery that reconstitutes antegrade flow in the right internal carotid artery (
c
,
d
). MRI shows old infarct in the right corona radiate (
e
)
Giant Cell Arteritis
Other Uncommon Vasculitis
HIV Vasculopathy
Owing to improved survival rates among HIV patients, the primary vascular pathology due to HIV infection is increasingly being documented in clinical practice. Young males are predominantly affected, and often the patients who are immunocompetent may manifest the disease. Vascular pathology may be aneurismal or occlusive in nature and involve extracranial carotid as well as intracranial arteries. Carotid involvement is noted in 25 % of all HIV-related aneurysms, and majority of these aneurysms present with clinical features such as painful enlarging mass lesions, hoarseness of voice, dysphagia, or stridor [
31
,
32
]. Intracranial aneurysms may be multiple large or giant fusiform aneurysms, reported usually in children or isolated saccular aneurysms in adults [
33
]. Among the patients presenting with stroke, HIV vasculopathy has been found to be the cause in 20 % of the patients [
34
].
Exact pathogenesis in unclear and probably involves multiple factors. Pathological studies had demonstrated infiltration of vasa vasorum by neutrophils, macrophages, and plasma cells. The resultant vasa vasoritis leads to ischemia and destruction of arterial wall and incites the development of arterial aneurysms. There is fragmentation and loss of internal elastic lamina, thinning of outer arterial wall, and intimal fibrosis. Bland thrombus occluding the lumen may also be demonstrated. Opportunistic bacterial infection of arterial wall is a distant possibility and should be evaluated for if tissue specimen is available for analysis [
32
,
34
–
36
].
Vascular abnormalities are detected during routine surveillance or while evaluating specific clinical manifestations. Ultrasound is widely available and can easily demonstrate pseudoaneurysms, stenosis, or occlusion of extracranial carotid artery. Pseudoaneurysms are commonly localized to distal common carotid artery or carotid bifurcation, and it is visualized as blowout defect in the arterial wall with turbulent color flow. The adjacent arterial wall shows thickening and hyperechoic spotting [
37
]. CT and MRI can better delineate these pathologies and are useful in detecting intracranial vascular abnormalities as well. Intracranial aneurysms are common in the circle of Willis, first- or second-order branches of MCA, ACA, or PCA. Besides diagnosis, imaging is also useful in monitoring the growth of the aneurysm and in assessing the response to retroviral therapy as some of the lesions resolve with treatment [
31
,
34
,
38
].
Connective Tissue Diseases
Other Systemic Disease with Carotid Involvement
Neurofibromatosis Type 1
Neurofibromatosis type 1 is a rare autosomal dominant disease caused by the mutation of tumor suppressor gene located in the chromosome 17 that encodes the protein neurofibromin. Neurofibromin regulates cellular mitogenesis by inhibiting the reticular activating system (ras) pathways, and hence a loss function leads to overexpression of mitogenic signals within the cell leading to cellular proliferation or differentiation [
67
]. The clinical hallmarks of the disease are café-au-lait spots, cutaneous neurofibromas, bone changes, and iris hamartomas. The vascular involvement is uncommon and is reported to occur in 0.4–6.4 % of patients with NF1 [
68
]. NF1 vasculopathy affects large-, medium-, and small-sized arteries. The arteries may be secondary involved when its wall is weakened by extrinsic compression of extravascular neurofibromas or due to the proliferation of Schwann cell within the arterial layers. Recent studies demonstrated a marked intimal and smooth muscle cell proliferation, and this observation has been related to decreased expression of neurofibromin in the vascular wall. It is unsure whether the vascular changes are congenital or acquired as a pathological response to injury [
68
–
71
]. The pathophysiology of vascular abnormality is related to the amount of intimal proliferation, spindle cell proliferation in the media, and the arterial diameter. Hence, small-sized arteries are often occluded, whereas larger arteries show aneurismal changes due to weakening of arterial wall [
69
–
72
].
The NF1 vasculopathy is the second leading cause of death among the NF1 patients younger than 40 years. The carotid, vertebral, or intracranial arteries are affected in one fifth of the patients, and vascular abnormality may be in the form of arterial stenosis, aneurismal changes, or arteriovenous malformations. The aneurismal changes are the commonest pathology and show female preponderance and predilection to rupture spontaneously during pregnancy. Extracranial aneurysms are large and fusosaccular and may present as pulsatile or enlarging neck mass or acute rupture. Intracranial aneurysms are relatively uncommon and may affect intradural ICA, middle cerebral, anterior cerebral, or basilar arteries [
68
,
69
,
71
,
73
,
74
]. The aneurysms are incidentally detected or present with subarachnoid hemorrhage. Rarely coexistent intracranial and extracranial aneurysms also may be found. The incidence of cerebral vasculopathy in pediatric population was found to be 2.5 % in a large institutional-based study. Besides moyamoya pattern, isolated stenosis, occlusions, or ectasias of intracranial arteries are observed (Figs.
8
and
9
) [
75
].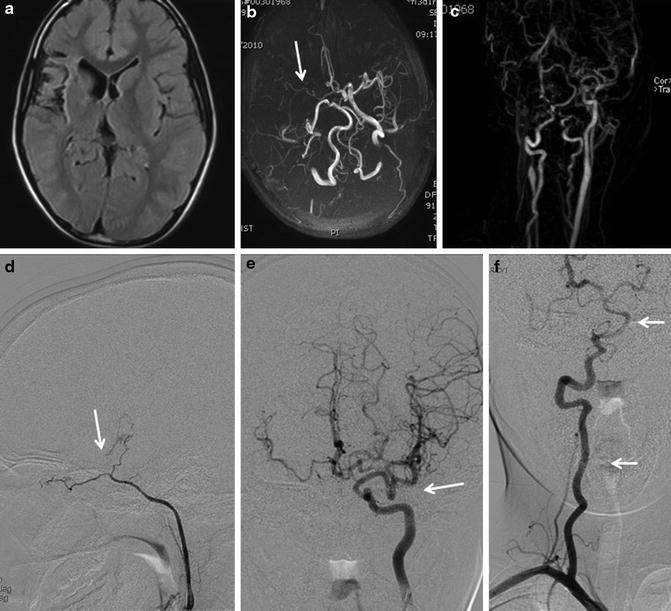 Fig. 8
A young patient with neurofibromatosis. MRI (
a
) shows gliosis and atrophy of the right frontal operculum. MR angiogram (
b
,
c
) shows occlusion of the right internal carotid artery and small caliber of the right middle cerebral artery. Diagnostic angiogram reveals occlusion of the right supraclinoid internal carotid artery (
d
) and excessive tortuosity of the left superior and inferior divisions of middle cerebral artery (
e
). Cervical and intracranial vertebral arteries are also tortuous (
f
)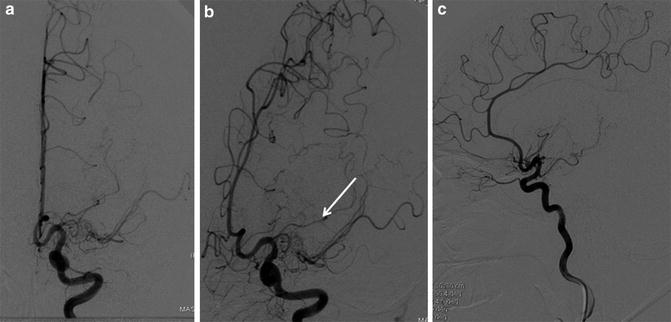 Fig. 9
Young girl with neurofibromatosis 1, presenting with acute stroke. Diagnostic angiogram of left internal carotid artery reveals occlusion of proximal segment of middle cerebral artery (
a
,
c
) with striate collaterals (
b
) suggestive of Moyamoya disease
Vertebral arteriovenous fistula is a well recognized complication of neurofibromatosis with fewer than 50 cases reported in the literature (Fig.
10
). The etiology of arteriovenous fistula is not clearly understood. Spontaneous rupture predisposed by arterial wall thinning and fragility to adjacent venous plexus is thought to be one of the mechanisms. A congenital theory assumes preexisting abnormal congenital vascular communications within the arterial wall which develops into the fistula. Clinical features of this condition include pulsatile mass lesion, radiculomyelopathy, cranial neuropathy, or tinnitus. The fistula may be found involving the upper or lower cervical vertebral arteries or may involve one of the branches of the vertebral artery. The epidural venous sacs are often large and demonstrate rapid shunting. Flow reversal and arterial steal may often be identified, and sometimes, small communication channels open up when the main fistula is occluded, and hence long-term surveillance is advocated. Recent reports suggest good clinical outcome with various endovascular strategies [
76
–
78
].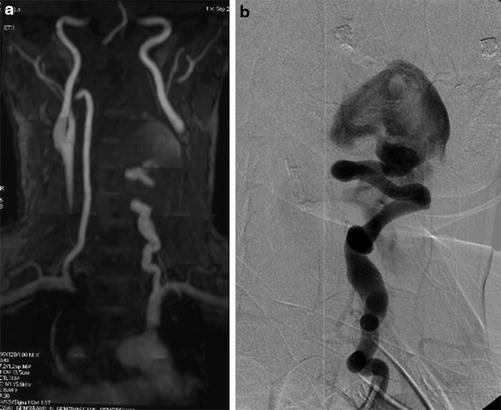 Fig. 10
A middle aged female with pulsatile mass lesion in the neck. MRI (
a
) show tortuous and dilated left cervical vertebral artery emptying into a large pouch. This is confirmed in the diagnostic angiogram (
b
) She was diagnosed to have neurofibromatosis 1
PHACE(S) Syndrome
PHACE(S) is an acronym for a neurocutaneous syndrome with salient features of
P
osterior fossa malformation,
F
acial hemangiomas,
A
rterial anomalies,
C
oarctation of aorta and
C
ardiac defects,
E
ye anomalies, and ventral developmental anomalies such as
S
ternal clefts or
S
upraumbilical raphe. The vascular lesions are common in PHACES, seen in up to 78 % of patients. The abnormalities are either congenital or progressive and are related to the development or phase of growth of cutaneous hemangioma. The arterial anomalies are detected in the location of hemangioma, and this association is hypothesized due to vascular expression factors released by the hemangioma either during embryogenesis or proliferative growth. The hemangiomas of face, orbit, or scalp are associated with vascular malformations of intracranial or carotid arteries, whereas mandibular, neck, or chest lesions are related to cardiac, aortic, or supraaortic abnormalities [
79
,
80
].
The congenital vascular anomalies observed include arterial dysplasias, aberrant course or origin, hypoplasia, or agenesis of different intracranial arteries, dolichoectasia, saccular intracranial aneurysms, and presence of persistent embryonic carotid-vertebral communications [
79
–
81
]. Progressive vasculopathy such as stenosis, moyamoya pattern, or occlusions is observed in 40 % of the patients. These vascular findings are observed in more than 90 % of the patients presenting with clinical features of acute stroke [
82
]. Internal carotid arteries are commonly affected followed by middle cerebral, anterior cerebral, and vertebrobasilar arteries. Associated brain structural anomalies are evident in the brain in 41 % of the patients, more commonly in posterior fossa [
81
].
Full access? Get Clinical Tree