Type of infarct
Clinical description
Lacunar
Acute stroke that includes one of the major recognized lacunar syndromes: (1) pure motor, (2) pure sensory, (3) sensorimotor, (4) ataxic hemiparesis, (5) dysarthria (clumsy hand syndrome)
Total anterior circulation
Ischemia in both deep and superficial territories of the middle cerebral artery characterized by higher cerebral dysfunctions such as dysphasia, dyscalculia, visuospatial disorder, homonymous visual field defects, ipsilateral motor, and/or sensory deficit of at least two areas of the face, arm, and leg
Partial anterior circulation
Clinical syndrome includes only two of the three aforementioned components, with higher cerebral dysfunction alone or with more restricted sensorimotor deficits than those classified as lacunar infarcts
Posterior circulation
Ipsilateral cranial nerve palsy with contralateral motor and/or sensory deficit, bilateral motor and/or sensory deficit, disorder of conjugate eye movement, cerebellar dysfunction without ipsilateral long-tract deficit, or isolated homonymous visual defect
In 1993, a multicenter clinical trial known as TOAST, or Trial of ORG 10172 in Acute Stroke Treatment, classified ischemic strokes based on their respective causative mechanisms: (1) large-vessel atherosclerotic disease, (2) small-vessel atherosclerotic disease, (3) cardioembolism, (4) other determined etiologies, and (5) undetermined of multiple possible etiologies (Table
2
) [
4
,
5
].
In this chapter, the etiologies of ischemic stroke, characteristic imaging patterns associated with the evolution of ischemic strokes, and stroke categories based on causative mechanisms will be reviewed.
Etiologies of Ischemic Strokes
Although uncommon, acute stroke caused by fat emboli is potentially life threatening. Acute ischemia in the presence of long bone or pelvic fractures, cardiac surgery, or joint replacement therapy should raise concern for fat embolism. Fat emboli from epicardial or bone marrow fat can pass through pulmonary capillaries without shunting lesions and result in systemic embolization, commonly to the brain. Patients typically present with the clinical triad of hypoxia, altered mental status, and petechiae. Other signs that may be present include tachycardia, fever, anemia, and thrombocytopenia.
Imaging Findings Associated with Ischemic Strokes
Brain imaging can accurately localize an ischemic stroke lesion to a specific vascular distribution [
16
,
17
]. Identification of occlusion or stenosis of extracranial and/or intracranial arteries can delineate the ischemic nature of a lesion and help determine its etiology – for example, whether it occurs as a consequence of slow flow, proximal embolic occlusion, or small-vessel disease.
CT and MRI findings change rapidly throughout the initial week after an infarct due to the underlying pathophysiologic changes taking place. Although CT is extremely useful for detecting large ischemic infarcts of more than 6–8 h in duration, it does not reliably reveal infarcts of less than 4 h in duration or optimally characterize the extent of such infarctions. The goals of CT in the acute setting include exclusion of intracranial hemorrhage or involvement of greater than 33 % of the distribution of the middle cerebral artery (MCA) territory, which would preclude thrombolytic therapy, identification of any early features of infarction, and exclusion of other intracranial pathologies that may mimic a stroke, such as a tumor.
CT Findings
MRI Findings
Vascular Imaging
Arterial and venous occlusion or slow flow can be visualized on FLAIR and enhanced T1-weighted images. Chronic vessel occlusion or extremely slow flow in large vessels manifests with isointensity to hyperintensity on T1-weighted images (Fig.
13
) and hyperintensity on FLAIR because the intrinsic hyperintensity of blood can be "captured" due to the absence of flow effects. If contrast is administered, intraluminal hyperintensity is more extensive distal to an occlusion than in normal circulation because the intrinsic intensity of the enhanced blood is detectable secondary to absent flow effects.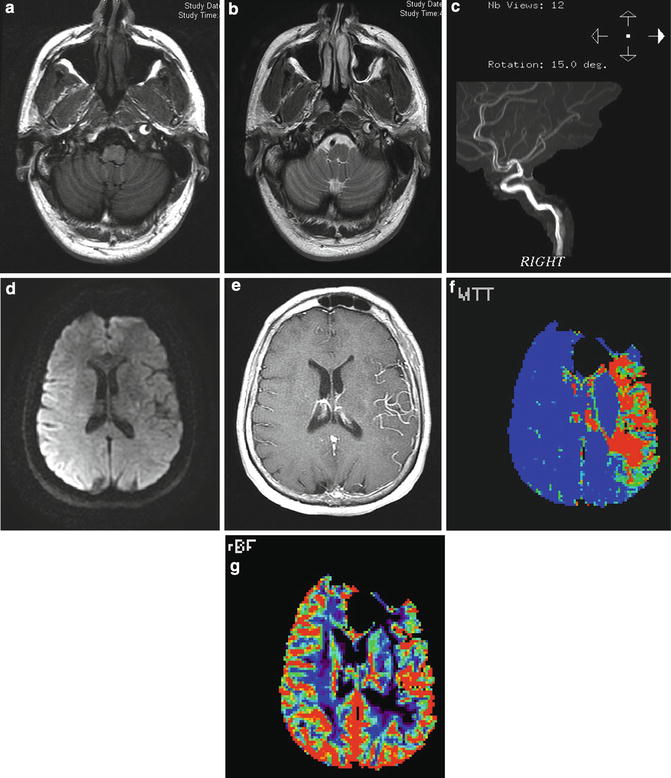 Fig. 13
Carotid dissection with slow flow and large perfusion diffusion mismatch. (
a
) T1- and (
b
) T2-weighted images demonstrate the presence of peripheral hyperintensity surrounding central hypointensity in the left internal carotid artery at the skull base ("target sign") representing intramural clot surrounding the narrow but patent artery. (
c
) MRA demonstrates the hyperintense flow with the lumen surrounded by more amorphous hyperintense clot in the vessel wall. (
d
) DWI image demonstrates minimal restricted diffusion in the left corona radiata (apparent hyperintensity overlying right hemisphere is artifactual). (
e
) Contrast-enhanced T1-weighted image demonstrates enhancement of MCA branches due to slow flow. (
f
) MR perfusion demonstrates marked prolongation of mean transit time and (
g
) moderate decrease in cerebral blood flow
Direct visualization of vascular abnormalities (stenosis occlusion and dissection) can be obtained with CTA, magnetic resonance angiography (MRA), and catheter angiography. The latter is usually reserved for cases where intervention is contemplated or when diagnosis is in doubt. Atherosclerotic narrowing and occlusion occur in typical locations (e.g., carotid bifurcations in the neck, M1 segments of middle cerebral arteries, vertebral artery origins, and intracranial segments). Dissections of the extracranial internal carotid artery produce four patterns of luminal abnormality: smooth tapering to a pointed occlusion, long segment asymmetric narrowing, double lumen with an intimal flap, and pseudoaneurysm formation [
7
]. CTA allows for the detection of intimal flaps and double lumens and MRA is excellent at identifying carotid dissection. MRI imaging of the neck in particular with fat-suppressed T1-weighted imaging can identify the intramural hematoma that is the direct result of the dissection (Fig.
13
).
MR Perfusion
Perfusion imaging can be performed with MR as well as CT. As with CT the brain is imaged as a bolus of contrast is being injected. The contrast agent is paramagnetic so it causes intensity in the brain to decrease proportionate to the amount of contrast in the vascular system. Whole brain coverage is routinely obtained (as opposed to CT perfusion). The perfusion parameters are similar to those obtained from CT, but it is not possible (or at least not easy) to obtain MTT measurements and therefore quantification is difficult. However, since the perfusion diffusion mismatch is qualitatively visible, there is no need for quantification to delineate the core infarct and the penumbra (Fig.
13
).
Localization of Ischemic Strokes
The intracranial circulation involves paired internal carotid arteries and vertebral arteries that merge to form the basilar artery. An anastomotic network connects the carotid and vertebrobasilar systems at the circle of Willis provides defense against major-vessel occlusive disease. However, collateral circulation is more sparse distal to the circle of Willis, which makes these areas more susceptible to infarction. It is thus important to understand the vascular anatomy and recognize territorial arterial supply to localize blood vessels with atherosclerotic disease/thrombosis.